Top Micro-Cap Stocks to Buy for 2017: Full House Resorts (FLL)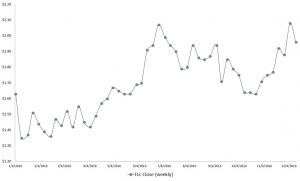 Click to Enlarge Major casino stocks can be quite a gamble due to their exposure to elements completely outside their control.
Case in point: Macau, the former Portuguese colony turned the casino mecca of the world. If anything were to affect that gaming district, the reverberations could be quite severe — as they were just a few days ago!
In these circumstances, less is more.
That's why I pegged Full House Resorts, Inc. (NASDAQ:FLL) as one of the micro-cap stocks to buy. Based in Las Vegas, FLL's assets are all "in house," with operations in Mississippi, Indiana, Nevada and Colorado. Even better, these locations aren't slapped on with a generic label. Rather, each casino facility is tailor-made according to regional customs and tastes.
FLL stock is a "winner, winner, chicken dinner!" in 2016, thanks in large part to a renewed market push following the presidential election victory of Donald Trump. However, Full House isn't wholly a Trump story — the stock has ridden a long-term bullish trend channel since August 2014.
Full House is on pace for its second consecutive year of increased revenues. If President-elect Trump can engineer a true economic recovery, look for FLL to jump even higher.