Are we closing in on a new normal, or inching back toward something that looks at bit more like the non-partisan parts of yesterday we all loved? There is hope. But when it comes to investing, some Covid-19 stocks are fit to remain in our lives no matter what tomorrow might bring. And following larger corrections, three of those names are stocks to buy today.
To steal a line, "the world has changed." And while Warren Buffett's infamous coronavirus-driven warning is out of context, it has improved, at least in the behavior of a forward thinking, two-steps ahead Wall Street. Following a first, then second dose of terrific vaccine news from Pfizer (NYSE:PFE) and Moderna (NASDAQ:MRNA), a laundry list of companies damaged by the pandemic have become stocks to buy.
A fierce rotation has seen investors betting on green in former "stay away" stocks such as casino operators MGM Resorts (NYSE:MGM) or Wynn Resorts (NASDAQ:WYNN) hoping for big-time payoffs. That same crowd is also looking at airliners Delta (NYSE:DAL), Southwest Air (NYSE:LUV) and others to continue flying higher. And some are even booking trips in still-compromised cruise lines like Royal Caribbean (NYSE:RCL) and Carnival (NYSE:CCL). Can you blame them?
Alternatively, some of Wall Street's surge in optimism has come at the expense of market leaders which benefitted from lockdowns, stay-at-home or work-from-home orders mandated by officials and employers alike. And rightfully so, right?
It depends.
All stocks correct. It's important not to forget that simple fact. And particularly after the massive runs many Covid-19 stocks have enjoyed in 2020, a correction's odds of happening increase. But don't mistake that price action as the start of an unrelenting bear market. Some of the pandemic's winners are also companies that are here to stay, regardless of what happens in 2021 and beyond. And right now a select few of these businesses are also stocks to buy under the assumption of the market remaining the same as it ever was. Three Covid-19 stocks to buy now are:
Stocks to Buy: Zoom Video (ZM)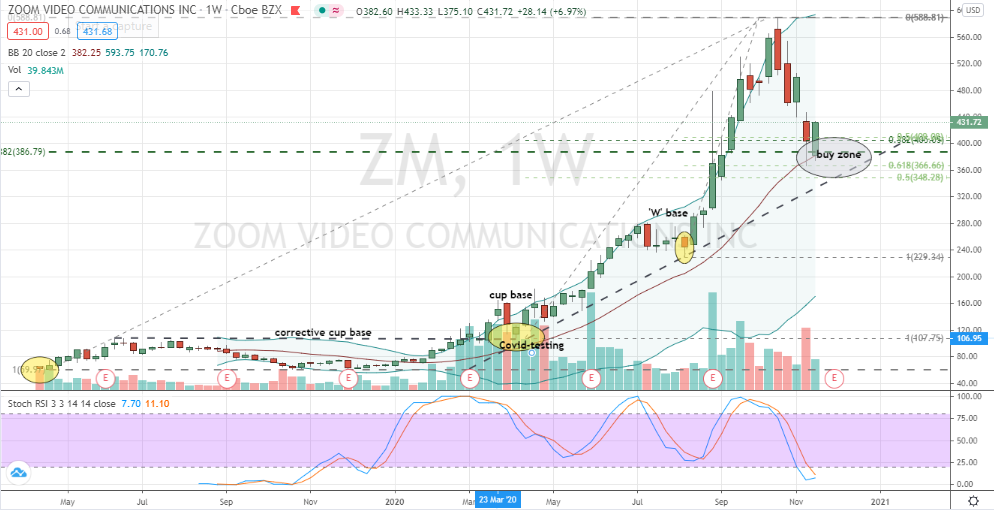 Source: Charts by TradingView
The first of our stocks to buy is Zoom Video. Zoom has become the face of a technology put on a pedestal during the coronavirus. And for good reason. It has become an essential tool for friends and families alike. But the tool has also grown into a "critical component" for many companies with new remote workforces that have also realized stronger business models than with their past cooler-talk-ready offices.
Bottom line, the trend keeping workers socially distanced and companies as long-term customers of Zoom Video isn't going anywhere, even when we're back to freely hugging our neighbors.
Technically, shares have been a victim of the Pfizer/Moderna rotation, as well-deserved profit-taking morphed into a larger corrective move. The entirety of the selling pressure has established a slightly deeper correction of 37% at its weakest this past week. Today, the opportunity to own this growth story at a discount looks more compelling as ZM reverses higher from a challenge of a multi-layered support zone backed by an oversold stochastics indicator on the cusp of a bullish crossover.
Favored Strategy: Married Put
Netflix (NFLX)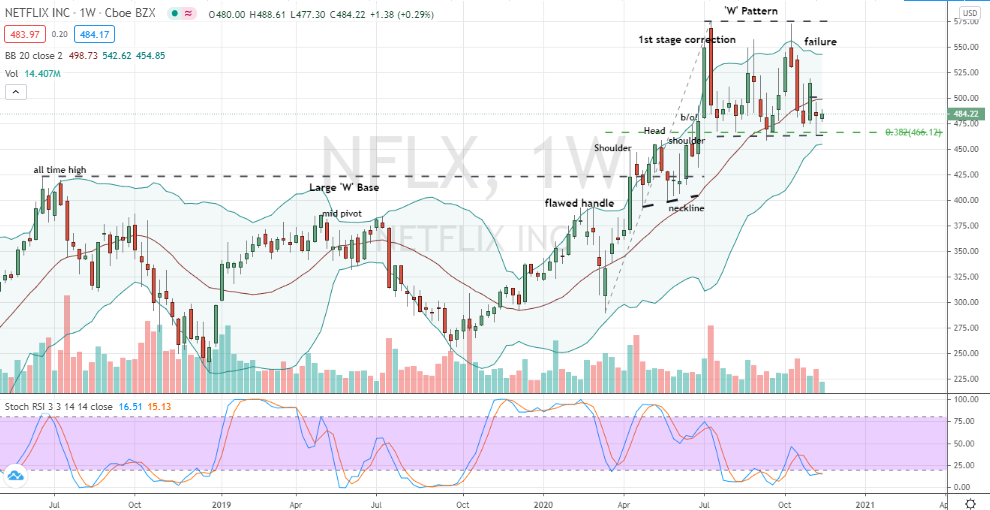 Source: Charts by TradingView
The next of our stocks to buy is Netflix. When we're not on Zoom, many of us will invariably find ourselves watching streaming video on demand. And despite Amazon (NASDAQ:AMZN), Disney (NYSE:DIS) and Apple's (NASDAQ:AAPL) platforms or dying cable competition, the 800 lb. gorilla in the space remains Netflix.
Technically, shares of NFLX recently failed to make good on the promise of a "W" pattern as a breakout to new highs never materialized. In its wake, the stock has worked its way into a test of the base's pivot lows. That's bad, right?
Not necessarily.
The decline since mid-October has established a 16% correction that's also challenging the high of a failed bearish head-and-shoulders pattern. It looks supportive of a purchase. And along with a weekly doji decision candle and nice-looking oversold and divergent stochastics setup, the reasons to make this a stock to buy grow even stronger in our estimation.
Favored Strategy: Out-of-the-money, intermediate-term bull call spread
Teladoc (TDOC)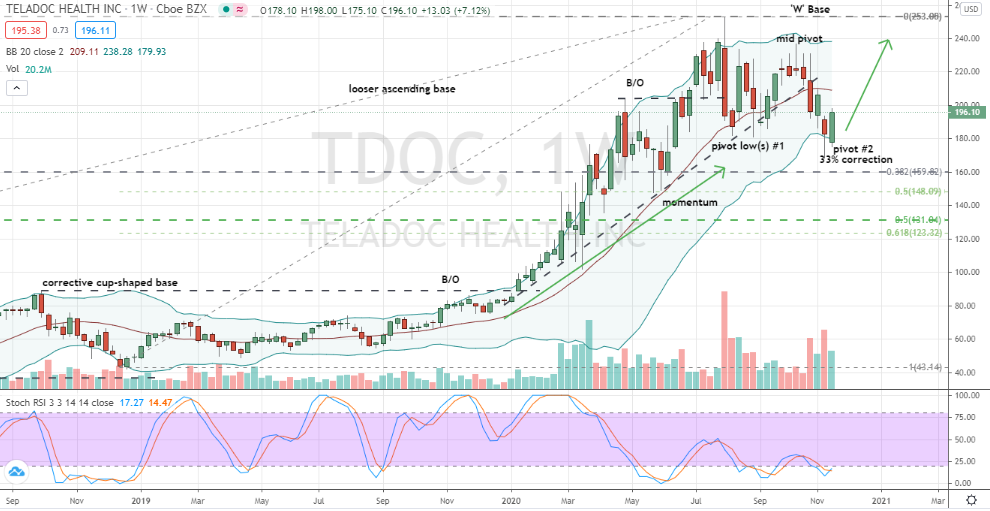 Source: Charts by TradingView
The last of our stocks to buy are shares of Teladoc. I discussed shares of the virtual healthcare services earlier this week. And for good reason. As InvestorPlace's Louis Navellier sees it, TDOC is going places in a secular trend towards remote doctor patient care long after Covid-19 has been put to rest for good. I couldn't agree more.
Technically and since our initial analysis of TDOC, healthier price action has confirmed a corrective move of 33%, with the weekly price chart now signaling a weekly hammer low. What's more, the pattern confirmation also forms the basis for a bullish "W" base, which many growth investors use for breakout trades.
Today and with Teladoc's stochastics crossing over in oversold territory to further back the solid-looking price action, there's no time like the present to purchase value in this growth stock to buy.
Favored Strategy: Married put/Legged stock collar
On the date of publication, Chris Tyler did not hold, directly or indirectly, positions in any of the securities mentioned in this article.
Chris Tyler is a former floor-based, derivatives market maker on the American and Pacific exchanges. The information offered is based on his professional experience but strictly intended for educational purposes only. Any use of this information is 100% the responsibility of the individual. For additional market insights and related musings, follow Chris on Twitter @Options_CAT and StockTwits.