In 2020, SPAC stocks went from obscurity to euphoric notoriety. This year there's been equally widespread payback for investors' overzealous behavior. Today, though, and based on what we're seeing in the price charts of three leading and diverse SPACs, it's now time to buy what Wall Street has been forcefully selling.
SPACs. A year ago you had to spell out "special purpose acquisition company" in order to see a response other than bewilderment from most investors. This alternative direct-listing route for companies to go public was virtually unknown. And IPO's, or initial public offerings, were the undisputed champion for companies looking enter the secondary market.
What a difference a year makes, right?
Nikola (NASDAQ:NKLA). DraftKings (NASDAQ:DKNG). Blink Charging (NASDAQ:BLNK). Opendoor Technologies (NASDAQ:OPEN). QuantumScape (NYSE:QS). Those incredibly popular and heavily traded stocks are just the tip of an iceberg of SPACs which entered the market this past year. At the same time, investors may be hard-pressed to name just one or two IPO's that debuted with such force over the same period.
Alas and as the saying goes, there is certain truth to having too much of a good thing. Despite all the cool-sounding promises by diverse SPACs to be the next Tesla (NASDAQ:TSLA) or Square (NYSE:SQ), by and large, the wave of mostly unproven offerings has become a siren's song of SPAC tickers crashing hard in 2021.
The good news for SPACs? There will be survivors. We saw that with the dot-com crash. Amazon (NASDAQ:AMZN). eBay (NASDAQ:EBAY). Bank of America (NYSE:BAC) and other financial institutions taken down by the 2008-2009 financial crisis are another witness to this fact. As is the cryptocurrency crash and second coming of Bitcoin (CCC:BTC-USD) for that matter. Similarly, today is an opportune time to focus on SPAC leadership offered at deep discounts and well-positioned for the long game.
SPACs to Buy: ChargePoint Holdings (CHPT)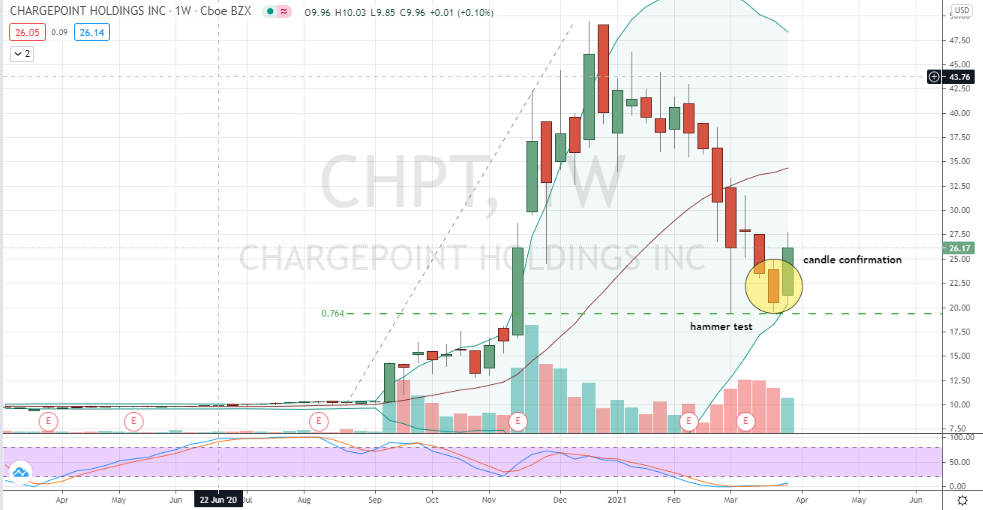 Source: Charts by TradingView
The first of our SPACs to buy are shares of ChargePoint. CHPT is the largest provider of EV charging stations in the United States with more than 100,000 charging ports. The outfit's commanding market share of nearly 75% is also importantly spread between retail locations and big business.
Salesforce (NYSE:CRM). Microsoft (NASDAQ:MSFT). Those giants of tech are among CHPT's clients whose corporate campuses are sprinkled with ChargePoint's charging stations. As well, key partnerships with automobile manufacturers such as Germany's BMW (OTCMKTS:BMWYY), which is integrating ChargePoint's stations into its onboard navigation, also bodes well for the days ahead.
Technically, many SPACs have bled out in recent weeks. But today CHPT stands apart after confirming a three-week long inside candlestick consolidation pattern. The formation has signaled within an exceptionally large hammer bottoming candle which found support off the 76% retracement level.
Coupled with a bullish stochastics crossover in oversold territory, this SPAC is a buy today. But rather than buy shares, for fully-charged upside with less stress of another unplugging, I'd go with the August $30/$40 bull call spread.
Virgin Galactic (SPCE)


Source: Charts by TradingView
Virgin Galactic is the next of our SPACs to buy. Richard Branson's space tourism venture turned into a flight of fancy earlier this year as shares rocketed higher by more than 160%. That action was fueled by Main Street's thematic short squeeze, meme trade with shares of GameStop (NYSE:GME) leading the way.
The observation is the joy ride higher also had a large triangle consolidation and successful test of support to thank for those gains. Today and technically, a hard crash landing in shares has put SPCE back where they started their journey. And that stands to be good news going forward.
To be candid, I'm not expecting history to repeat. But sporting a smaller triangle consolidation along with an oversold stochastics indicator, there are mission-ready signs for lift-off working in this SPACs favor. Today, I'd simply monitor this SPAC for a bullish stochastics crossover. If pattern support remains intact, a rally through angular resistance near $33.50 would be grounds for buying the June $35/$45 call vertical.
Spotify (SPOT)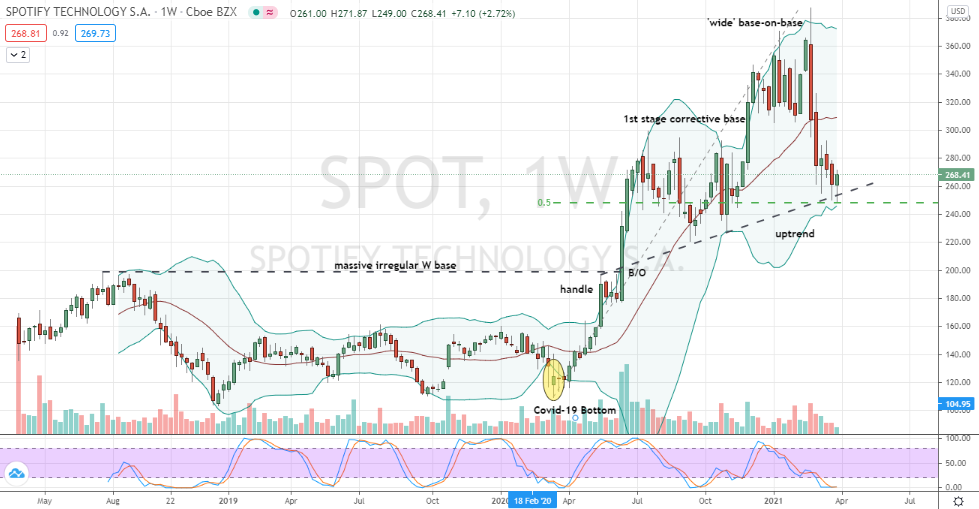 Source: Charts by TradingView
The last of our SPACs to buy are shares of Spotify. Sweden-based SPOT is the world's most popular streaming music platform. That's right. It's even bigger than Apple (NASDAQ:AAPL) and its Apple Music service. Spotify is also an old-timer as far as direct listings go. This SPAC stock pioneered the process way back in 2018.
Today, Spotify is betting aggressively on increasingly popular Podcasts from the likes of Joe Rogan. The outfit is also readying its high-resolution streaming music product called Spotify HiFi as it looks to cash in on its less-thrifty audiophile audience. There's also the possibility for Spotify-branded hardware such as headsets to drive sales growth. Also, a voice-controlled smart assistant platform called Car Thing, when subscribers are behind the wheel of that large automobile.
Technically, shares of this SPAC stock have retreated from a failed base-on-base breakout pattern. The good news is the price correction appears to have found support at SPOT's 62% retracement level tied to its Covid-19 bottom.
This SPACs weekly chart is revealing a bullish hammer candlestick pivot low in an emerging uptrend. And with the price action further supported by Spotify's lower Bollinger Band and an oversold stochastics crossover signal, this may prove a "once in a lifetime" opportunity for investors. However, for stronger pay-for-play option in this SPAC, I'd go with a modified SPOT May $330 call / (May $240/$210 put) stock collar.
On the date of publication, Chris Tyler holds, directly or indirectly, positions in DraftKings (DKNG) stock and derivatives, Grayscale Bitcoin Trust (GBTC), but no other securities mentioned in this article.
Chris Tyler is a former floor-based, derivatives market maker on the American and Pacific exchanges. The information offered is based on his professional experience but strictly intended for educational purposes only. Any use of this information is 100% the responsibility of the individual. For additional market insights and related musings, follow Chris on Twitter @Options_CAT and StockTwits.