Imagine a time traveler turned up in January 2020 to warn you about the economic impact of the Covid-19 pandemic. Changing history aside, a traditional growth investor might have bought the leading work-from-home tech stocks.
The results would have looked quite reasonable. The top-five holdings of the Direxion Work From Home ETF (NYSEARCA:WFH) — which include fast-growing names like Box.com (NYSE:BOX) and Facebook (NASDAQ:FB) — would have turned $10,000 into $13,900 today, outperforming the S&P 500 by a 50% margin.
But they would have missed out.
Had the same investor bought five of the top Reddit stocks,* they would have turned the same $10,000 into $263,000. Those who bought options or sold at peaks would have earned even more. Yet, many of these Reddit darlings — a ragtag group of dying video-game retailers, speculative cryptocurrency miners and money-losing automakers — are the opposite of what a reasonable investor might have considered at the time.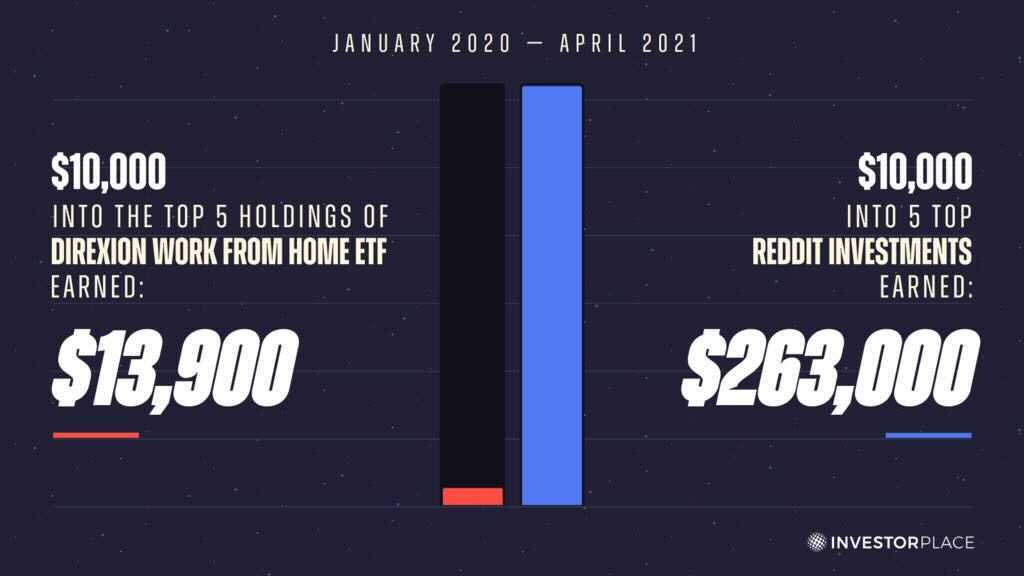 The stocks came to dominate for one straightforward reason: the rise of retail investors. These newer investors have turbocharged momentum investing in an extraordinary way. Not only has the momentum effect eclipsed other factors (growth, valuation, product quality and so on). The "Reddit Effect" now means that younger investors have an outsized influence over which stocks win.
As more young people become investors, their effect will become more pronounced and potentially turn into a "Mementum" effect instead. So, rather than ignoring the chatter on social media sites like Reddit and Discord, here's how to understand — and perhaps profit from — the rise of the retail investor.
Top Reddit Stocks: How Retail Traders Act
At first glance, predicting retail investors might seem impossible. These younger buyers tend to move quickly "from one hot theme to the next," according to analysis by Vanda Research.
Last summer, for instance, young investors piled on the "high-growth" bandwagon, snapping up companies like Nio (NYSE:NIO) and Snowflake (NYSE:SNOW) with better growth stories than actual revenues. As fall approached, these traders turned to "election stocks," such as clean energy and marijuana — sending firms like Plug Power (NASDAQ:PLUG) up 350%. It didn't matter that many of these companies were unprofitable. In some cases, some were even losing customers. These newer investors didn't seem to care.
And then came GameStop (NYSE:GME) — the ultimate show of retail investor force.
On Jan. 19, famed short-seller Andrew Left of Citron Research tweeted a $20 price target on GameStop stock. The call wasn't particularly controversial by Wall Street standards — GME was trading at $17 only two weeks earlier. But Reddit's r/WallStreetBets users quickly took the stock to nearly $500 within two weeks.
The diversity of hot themes might seem impossible to predict. Industry outlook doesn't seem to matter — Reddit favorites Tesla (NASDAQ:TSLA) and Palantir (NYSE:PLTR) both operate in fast-growing industries, while mall retailer Express (NYSE:EXPR) works in a shrinking one. Trading styles don't seem important either — young investors seem to like highly indebted moonshots such as AMC Entertainment (NYSE:AMC) and Hertz (OTCMKTS:HTZGQ) as much as flush-with-cash Roblox (NYSE:RBLX). To an outsider, the inconsistency of investment style might seem comical.
But there's one theme that ties every hot investment theme together: momentum.
Though most young investors don't realize it, every top Reddit stock fad so far has been built on rising stock prices. High-growth stocks like Nio only became widely popular last summer, after they had already risen 250% or more. The same pattern holds for airline stocks, clean energy, cryptocurrencies and GameStop. Though early movers make the most significant profits, most retail investors buy in only after seeing recent gains.
Why Redditors Focus on Momentum
Much of this behavior has to do with a hunger for gains. The median Robinhood investor has just $240 in their account. The College Investor founder Robert Farrington estimates that the average 31-year-old has only $2,032 in net worth.
That means younger investors will favor moonshot bets over slow-growing winners. When you have almost nothing to lose, a YOLO (you-only-live-once) approach becomes the most logical investment strategy.
But some of momentum's popularity also has to do with the Reddit echo chamber. Social media has made it far easier for like-minded investors to crowd into popular trades. Outlets from Reddit to Discord now have forums dedicated to individual assets. Smaller firms like SOS Ltd (NYSE:SOS), a Chinese cryptocurrency-mining company, boast thousands of dedicated followers who will come to a stock's rescue the moment short-sellers warn of fraud.
Momentum Takes Center Stage
Traditional investors have long known the slight advantage that momentum-based portfolios create. A study by fund manager James O'Shaughnessy found that since 1951, the 50 best large-cap relative strength stocks have outperformed the 50 worst by 5.6% annually. Adding small and mid-caps boosts that figure to 8.5%. In other words, a portfolio invested in a momentum strategy since 1951 would have grown 60 times larger by the study's 2003 endpoint.
Retail investors, however, have turned this slow-moving trend into a rocket ship.
Imagine we completely ignored our time traveler from before. Instead of worrying about Covid-19, we had bought the five best-performing S&P 500 stocks of the prior year — a group that included household names like Target (NYSE:TGT) and Chipotle (NYSE:CMG). How would we have done?
The answer: we would have returned 85%, more than doubling the return of the top work-from-home stocks and tripling the S&P 500 return.
The pattern features even more prominently among smaller-cap stocks. In the past year alone, the Invesco S&P SmallCap Momentum ETF (NYSEARCA:XSMO) has outperformed its large-cap sibling, the Invesco S&P 500 Momentum ETF (NYSEARCA:SPMO), by a staggering 24 percentage points. Investors didn't even need to check a Reddit message board.
Finding the Next Top Reddit Stock
So, how can investors identify the next top Reddit stock before they do? It's not as easy as buying the top-returning stocks on Reddit's r/WallStreetBets and assuming a +1,000% return is next.
Instead, investors need to consider three factors essential to "Mementum" investing.
1. Timing. Reddit's concept of momentum can be quite short — having only one to three months of outperformance seems to be enough for retail investors to jump on a new trend. Airline stocks in May 2020 are a prime example of a short window.
2. Company size. The typical stock mentioned on Reddit's r/WallStreetBets has a median size of $5.3 billion, compared to the S&P 500's $29.9 billion. GameStop was only a $2.5 billion firm when Citron's Andrew Left sent Reddit on its mission to send GME to the moon.
3. Leverage. Virtually all hot Reddit trends have either high operating or financial leverage. Cryptocurrency-mining companies like SOS and Marathon Patent Group (NASDAQ:MARA), for instance, trade more like Bitcoin (CCC:BTC-USD) options thanks to their high fixed costs.
Having all three elements won't guarantee landing the next Reddit bonanza. But these guidelines provide a stunningly powerful early warning signal.
Consider Sundial (NASDAQ:SNDL), a firm that would have turned a $1,000 investment in November 2020 into $23,300 three months later. Shares of the near-bankrupt firm initially spiked 300% after anti-marijuana Republicans lost Senate control in the 2020 election, a logical outcome for an uncertain election. But then things took a turn toward the sublime. Two weeks after the decisive Georgia runoffs, Reddit users started jumping on board. Five days later, the stock would get squeezed "to the moon."
Top Reddit Stocks Seem Here to Stay
In October 2019, traditional brokerages slashed their commissions to compete with a new existential threat: zero-fee trading on Robinhood, an upstart mobile stock app. Never mind that much of Robinhood's fees are hidden by "payment for order flow" mischief; younger investors only noticed their trading fees drop from $4.95 to $0.
For older investors, the change barely registered. Several hundred commission dollars look minuscule when transacting million-dollar portfolios. But for younger traders just starting, zero-fee trading was a game changer. Today, retail investors trade almost as much volume as mutual funds and hedge funds combined.
That makes some unlikely candidates potentially big future winners. Consider Babcock & Wilcox (NYSE:BW), a legacy nuclear player that now focuses on biomass and other renewable energy. Its modest $747 million market capitalization and 1% operating margin, combined with a stunning 149% year-to-date return, makes it an ideal Reddit target. Investors should pay close attention if "BW stock" starts showing up on social media platforms. Retailers like Conn's (NASDAQ:CONN) and aircraft leasers like Fly Leasing (NYSE:FLY) fall into the same list of stocks to watch..
Many academics dismiss momentum effects. In their minds, market efficiencies prevent positive risk-adjusted returns.
But successful investors have long known the power of buying winning companies like Amazon and Netflix (NASDAQ:NFLX). Now, investors need to adjust their strategy to accommodate the new Reddit paradigm. It's going to be a challenging but profitable journey for those who do.
* The five Reddit investments would have included GameStop, Tesla, Marathon Blockchain, Dogecoin and Bitcoin. WFH stocks include Facebook, Box, Fortinet, Netapp and Cisco. Holding period from 12/31/2019 through 4/9/2021.
On the date of publication, Tom Yeung did not have (either directly or indirectly) any positions in the securities mentioned in this article.
Tom Yeung, CFA, is a registered investment advisor on a mission to bring simplicity to the world of investing.