Last week's trading was wild, wasn't it?
In fact, Wednesday was one of the absolute craziest days I've seen in more than 20 years of investing.
The practice of short-selling combined forces with social media, and highly shorted stocks like GameStop (GME) and AMC Entertainment Holdings (AMC) doubled, tripled, and more within the same day. The action left some folks on Wall Street wondering what hit them.
All in all, the global stock markets pulled back last week after hitting an all-time high on Monday. Cannabis stocks were mixed, with Canadian stocks rising and U.S.-based stocks falling. This was a reversal of fortune for the two largest cannabis markets.
But that doesn't change the long-term outlook. I remain extremely bullish on U.S.-based cannabis stocks in particular and especially excited for new regulations that will allow a lot more stocks to list options. The rebound in Canadian stocks is also bullish as money continued to flow into the cannabis sector.
The one stock in our portfolio, Akerna (KERN), rallied 9% after its low close on Monday and could be positioning itself for more gains this week.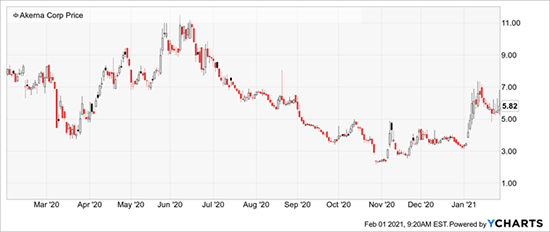 The stock continues to set up for an important breakout and is close to an area where we will consider selling a new covered call.
I had anticipated adding trades last week, but in the craziness that ensued, we were smarter to stay on the sidelines. If volatility decreases this week as I expect, I hope we'll get some good trading opportunities.
Have a good week.
Until next time,

Matt McCall
Editor, Cannabis Cash Weekly