From worst to first isn't likely. And most agree they're working on borrowed time. I'm talking of course about oil stocks. But could a larger and bearish background be blocking a timelier buying opportunity for investors right now? Let's look at the case for going long three oil stocks, as well as strategies to better capitalize on today's fears and jeers.
In 2020, the energy sector came in dead last. Specifically, oil stocks were clobbered. The SPDR Energy ETF (NYSEARCA:XLE) and VanEck Vectors Oil & Gas Services ETF (NYSEARCA:OIH) slid by 37% and 43%, respectively.
In both relative and absolute terms the performance by oil stocks was dismal. And you don't need to compare those companies' shares to alt energy EV giant Tesla's (NASDAQ:TSLA) market-throttling gain of around 700% in 2020 to figure that out either. From NextEra Energy (NYSE:NEE) to Brookfield Renewable Partners (NYSE:BEP) or Plug Power (NASDAQ:PLUG) the evidence against oil stocks is everywhere. Heck, even the S&P 500 clawed its way to 7% on the year despite the challenges of navigating the novel coronavirus pandemic.
Still, the fact remains that oil stocks have placed dead last in five of the last seven years as a sector investment. On top of that, alt energy stocks witnessed a bubble-like feeding frenzy in 2020 led by a wave of speculative and over-promising special-purpose acquisition company plays such as QuantumScape (NYSE:QS) or Nikola (NASDAQ:NKLA). Could it be time to make room for a few out-of-favor oil stocks in your portfolio? I believe so.
Here are the plays that stick out the most right now:
Beyond today's hype and the actual real strides made in greener technologies, roughly 80% of the world's economy is still dependent on fossil fuels for energy. It's also important to realize everything from your coveted Apple (NASDAQ:AAPL) iPhone to your toothpaste is dependent on petroleum. Ultimately, oil stocks aren't disappearing overnight. Moreover, right now, the price charts of these three oil stocks point at opportunities to go long and combat today's overly ambitious bearish consensus.
Oil Stocks to Buy: Chevron (CVX)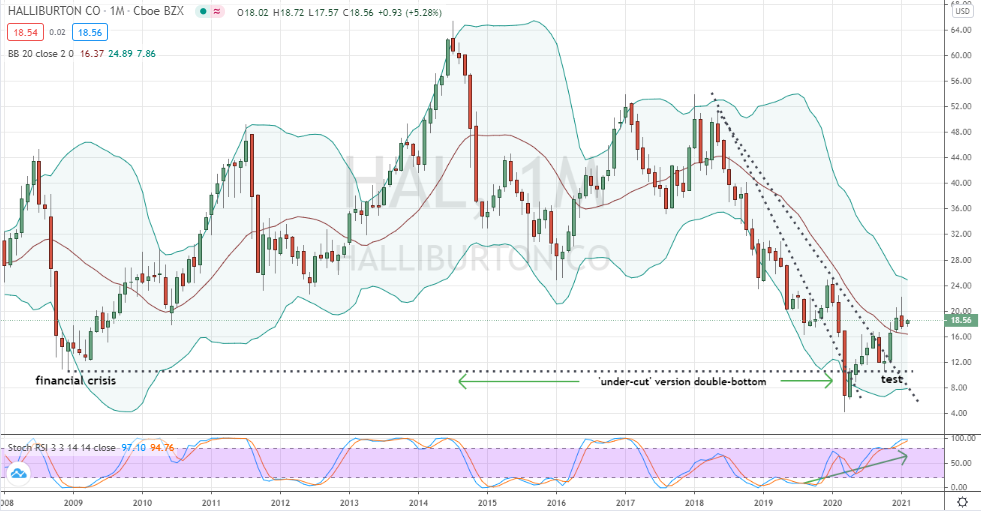 Source: Charts by TradingView
Following peer Exxon Mobil's (NYSE:XOM) removal this past summer, Chevron is now the only Dow Jones constituent with exposure to the energy sector.
Ironically, in the aftermath of the index's stock price influenced decision, XOM's market cap has surpassed CVX's valuation by roughly 10%. Don't kick a dog when it's down, right? Today however, this oil stock known to possess modestly stronger fundamentals is poised to reclaim that lost ground.
From a technical perspective, CVX stock's flawed and volatile movement away from its Covid-19 low now enjoys a bullishly trending monthly stochastics setup. And, in conjunction with consolidation work formed over the past two months after successfully shooting out of a higher-low doji pattern, the price action looks good.
It may look as though one foot is in the grave for this oil stock after last week's Q4 report, which showed earnings swinging from a profit to a loss. But this is no "last rites" situation. And it would be a mistake to discount a rally in 2021 that defies market expectations while getting paid nearly 6% to prove the naysayers wrong.
Favored Strategy: March $75/$95 Collar.
Halliburton (HAL)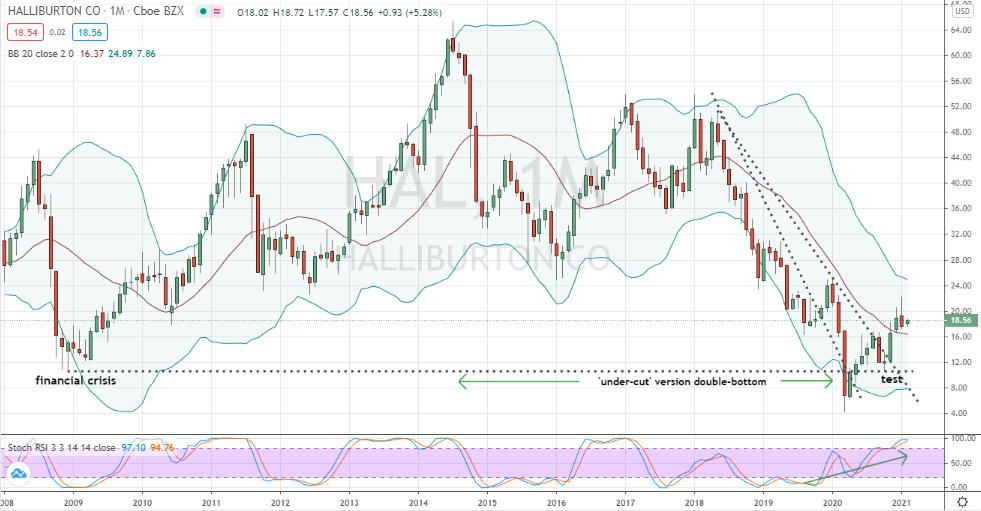 Source: Charts by TradingView
The next stock of our oil stocks to buy is Halliburton. Oilfield service stocks like HAL have been hit even harder than super majors like CVX or XOM. But HAL has smartly streamlined operations and it has pivoted aggressively into selling crucial data analysis to other oil patch operations.
One Seeking Alpha contributor called Halliburton's sticky revenue stream "Well-Flix" in homage to the glue on your television or laptop known as Netflix (NASDAQ:NFLX). It resonates. So does the company's recent Q3 report, which shows that the company is making solid strides in cutting debt. It also shows the company's ability to be cash flow positive in an incredibly challenging time for oil stocks.
Technically, Halliburton's monthly chart also grabs my attention as an oil stock that has room to rally.
Following last March's Covid-driven undercut double-bottom, HAL has gone on to form a couple higher-highs and one higher-low successful test of its 2008 – 2009 financial crisis low. As well, with a couple longstanding downtrend lines broken and stochastics insisting bears have overstayed their welcome, this oil stock is well positioned for an uptrend to emerge in 2021.
Favored Strategy: July $22/$28 Bull Call Spread.
Enbridge (ENB)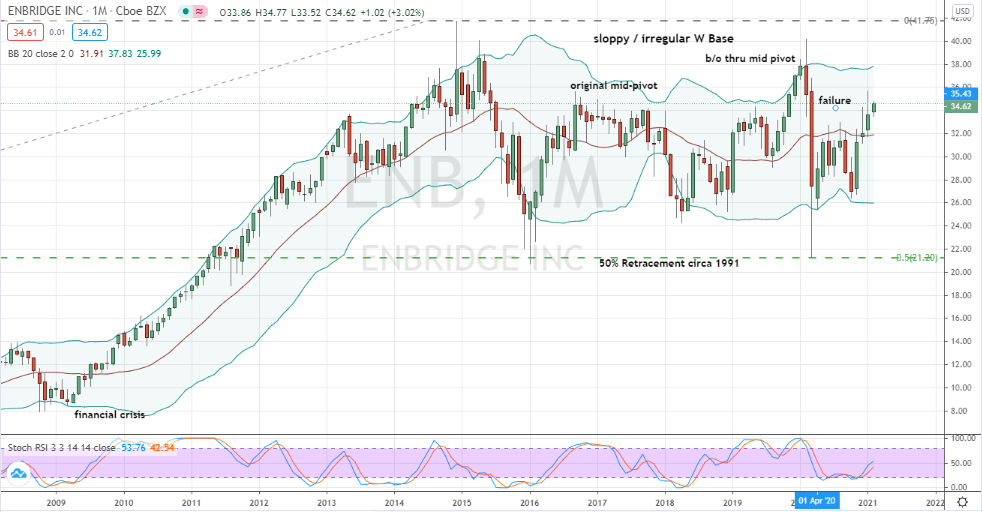 Source: Charts by TradingView
Enbridge is domiciled in Canada and one the largest midstream outfits in North America. Despite the industry's woes, Enbridge has demonstrated its wherewithal. Most recently, the company's solid operating results from November caught the attention of analysts and investors alike.
Technically, ENB stock has weathered the downturn in oil stocks much better than our other selections since topping in 2014. Not that it has been easy. It hasn't. A smaller, but still significant bullish 'W' base has morphed into an even larger and volatile, irregular 'W' or double-bottom pattern.
To be sure, there's been plenty of "gotcha" opportunities for buyers and shareholders to toss in the towel over the past several years. Still, after all is said and done, this oil stock has demonstrated sector leadership in a, mostly, classic fashion. Today, with shares re-crossing the elongated pattern's initial mid-pivot and stochastics trending supportively following an oversold bullish crossover, Enbridge is a buy.
Favored Strategy: Long July $37.50 Call.
Stocks Owned: On the date of publication, Chris Tyler holds, directly or indirectly, positions in Plug Power (PLUG) and its derivatives, but no other securities mentioned in this article.
Chris Tyler is a former floor-based, derivatives market maker on the American and Pacific exchanges. The information offered is based on his professional experience but strictly intended for educational purposes only. Any use of this information is 100% the responsibility of the individual. For additional market insights and related musings, follow Chris on Twitter @Options_CAT and StockTwits.