This article is excerpted from Tom Yeung's Moonshot Investor newsletter. To make sure you don't miss any of Tom's potential 100x picks, subscribe to his mailing list here.
5 Stocks Set to 10x Next Year
Eeek. I'm going to ask for a raise.
That's because picking 10x winners is hard, no matter what "stock experts" claim. Of the 8,187 companies tracked by Thomson Reuters on the main U.S. exchanges, only eleven (or 0.1%) are 10x higher than they were in October 2020.
On top of that, most Moonshot stock pickers also go digging in the wrong places. They're so focused on "finding the next Amazon (NASDAQ:AMZN)" they forget that most tech stocks are slow burners. Of the companies that went 10x in the past year, none were high-tech growth companies. The closest — Upstart Holdings (NASDAQ:UPST) — is up only 7x from its IPO.
Instead, these companies were a combination of:
Not exactly your list of shining Tesla (NASDAQ:TSLA) stars, are they?
But if you truly want to find stocks that go 10x in 12 months, this is the toxic sludge where we have to look. So, grab your snorkels. Today, we'll consider what makes a 10x winner, and pick out five favorites that look set to rocket next year.
What Makes a 10x Stock?
Let's make one thing clear: blue-chip Moonshot wagers are excellent bets — if you're willing to stick around for a while. Anyone buying Amazon (AMZN) in 2001 would have waited a decade to cash in a 10x gain. Tesla managed to do it in three years, but its shares then flatlined for the next five.
But today's article is about getting rich quickly. And to do that, we'll need to buy some ugly ducklings.
Finding Moonshots in Penny Stocks
To start, it helps to find some common factors that determine 10x winners.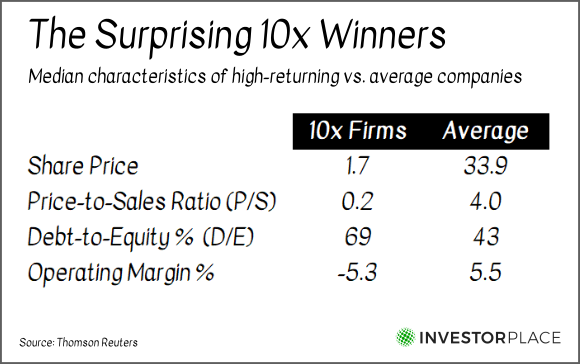 It turns out that these firms are cheaper, less profitable and more indebted than typical companies. And even after their stock prices rise, leverage and margins still remain poor.
OTC stocks also tend to outperform. Of 4,779 companies listed over the counter, 506 (or 10.5%) managed returns of 1,000% or better. People are 100x more likely to find a big winner in the OTC markets than they are on the standard boards.
That's why you'll find me scouring alternate exchanges for great deals. In May, I recommended readers buy shares in bankrupt Hertz (OTCMKTS:HTZZ), explaining that it could become the top penny stock of 2021. Shares have since risen from $2.50 to over $30.
Today, we'll cover five more companies with the potential for 10x gains in 2022.
5 Stocks Set to 10x Next Year
Reddit investors love thematic investing. The success of GameStop (NYSE:GME) led to a mad rush into Bed Bath & Beyond (NASDAQ:BBBY), AMC Entertainment (NYSE:AMC) and other low-quality mall stocks. Meanwhile Dogecoin's (CCC:DOGE-USD) rise created an entirely new asset class of pupcoins (A quick glance at BSCScan shows 22,101 different tokens named some iteration of "Shiba").
Now blockchain miner Marathon Digital Holdings (NASDAQ:MARA) could inspire the next generation of meme stocks: the cryptocurrency Moonshot.
RocketFuel Blockchain (OTCMKTS:RKFL). This San Francisco-based OTC firm promises to bring 1-click crypto payment to ecommerce systems.
POSaBIT (OTCMKTS:POSAF). The Canadian company is a leading provider of crypto payments to the cannabis industry.
Both of these potential meme stocks have reasonably experienced management teams backing them — RKFL is led by Peter Jensen, the former CEO of a cloud cybersecurity firm that was acquired by IBM (NYSE:IBM). And POSAF is run by former tech executives from Microsoft (NASDAQ:MSFT) and other blue-chip firms.
These two crypto Moonshots are also cheap — a requirement for stocks to go 10x quickly. POSAF trades at just $1.50, while RKFL is available for $0.50.
The main reason to buy however, is that both firms operate in a red hot industry. Reddit users have pumped crypto stocks like SOS Limited (NYSE:SOS) and Riot Blockchain (NASDAQ:RIOT) before, and they're almost guaranteed to do it again.
There are certainly risks. RocketFuel's former CEO seems to have vanished from the corporate website without a trace, while POSaBIT could run into competition from Mastercard (NYSE:MA) and point-of-sale (POS) companies.
No one ever claimed these firms were high quality. But as far as meme stocks go, these two Moonshot picks have all the ingredients for a 10x rise.
Labor Firms are the Next Oil & Gas
Ecofriendly investors probably wish they could forget 2021, a year where fossil fuel companies trounced renewable energy ones. It's hard to lose when prices for your only product go from negative $37 to $85 per barrel.
As we move into 2022 though, a totally different industry should see similar growth: staffing service firms.
That's because these firms are much like oil & gas companies — low margin, heavily commoditized and dependent on market cycles. Volt Information Science (NYSEAMERICAN:VOLT) traded as high as $44 during the 1997 tech bubble and $40 during the 2006 housing bubble before crashing down to under $4 today.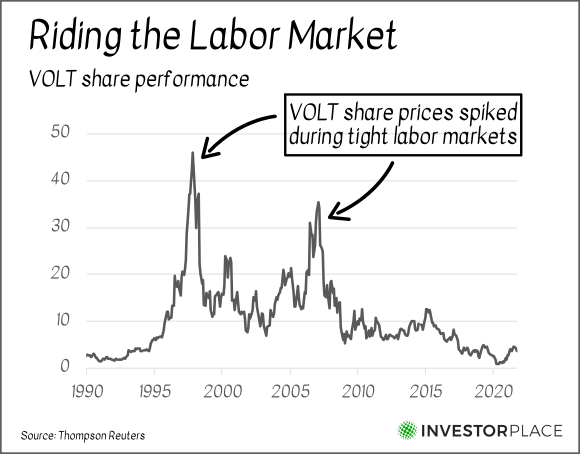 First published in the Oct. 4 issue of the Moonshot Investor
Two cheap stocks now look even better positioned than VOLT to go 10x as labor markets tighten.
Gee Group (NYSEAMERICAN:JOB). The century-old company specializes in professional staffing, including IT, engineering and medical services
Team Inc (NYSE:TISI). This engineering outsourcing company provides inspection and other services to various industries including energy, manufacturing and infrastructure.
Much like oil & gas in 2020, these two staffing firms are currently deep in the red. Operating margins are negative, and their Altman-Z scores (a measure of solvency) both sit below the standard 2.4 threshold of healthy firms.
But we're not here for quality or high-tech. We're here for 10x gains.
As Covid-19 unemployment benefits are pared back, many will find themselves pushed back into the job market. And much like oil & gas companies last year, staffing firms will see their bottom lines flip positive as both supply and demand pick back up. Wall Street analysts are already predicting break-even margins in 2021 for Gee Group, and positive EBITDA (earnings before interest, taxation, depreciation and amortization) in 2022 for Team Inc.
The Next Bankrupt Hertz: NGL Energy Partners (NGL)
Attempting to pick out the next bankrupt Moonshot is risky at best. For every Hertz that goes 10x, several dozen more go straight to zero. Most bankruptcies — from Intelsat (OTCMKTS:INTEQ) and Sequential Brands (OTCMKTS:SQBG) — simply don't have enough hidden equity value to pay off bondholders.
But NGL Energy Partners is different. This natural gas pipeline only had customers who were in bankruptcy.
And that's a world of difference.
NGL Energy Partners is a natural gas master limited partnership (MLP) that markets have priced to fail. The stock trades at an absurd 1x price-to-cashflow (P/CF), a tenth of typical gas pipeline companies. Much of these woes stem from sagging customer demand, especially following the 2021 Texas energy crisis.
Natural gas bears however, are in for a surprise this winter. Last month, the U.S. Energy Information Agency (EIA) raised its price target for Henry Hub natural gas to $5.80, over twice the price of 2020 levels. And with many energy firms looking to ramp production to fill demand, pipelines like NGL could switch from money-losing to money-printing in a matter of months.
The Perils of 10x Investing
When I named Hertz as a top penny stock, I did so with full knowledge of how American Airlines (NASDAQ:AAL) stock acted back in 2011. Bankrupt companies can rise from the dead if they have enough hidden asset value to cover their debts.
But these companies tend to exist on a knife's edge. If a firm has $15 billion in debt, equity holders will only get paid if gross asset values exceed that figure.
And that brings us to Intelsat, a defunct satellite company trading at $0.021.
At first glance, Intelsat looks a lot like Hertz did in 2020 — swaddled in crushing debt and owned by bondholders willing to take a 50% haircut (doing so would mean equity holders get nothing).
But unlike Hertz, sitting on a vast fleet of fairly-new rental cars, Intelsat owns an aging set of satellites that need replacing. More than half of the firm's satellites are more than a decade old, and it's unlikely an Elon Musk or Jeff Bezos will swoop in with a $15+ billion offer.
It's no surprise that shares have dropped 96% so far this year, and that I'm still warning investors to stay away.
P.S. Do you want to hear more about cryptocurrencies? Penny stocks? Options? Leave me a note at moonshots@investorplace.com or connect with me on LinkedIn and let me know what you'd like to see.
FREE REPORT: 17 Reddit Penny Stocks to Buy Now
Thomas Yeung is an expert when it comes to finding fast-paced growth opportunities on Reddit. He recommended Dogecoin before it skyrocketed over 8,000%, Ripple before it flew up more than 480% and Cardano before it soared 460%. Now, in a new report, he's naming 17 of his favorite Reddit penny stocks. Claim your FREE COPY here!
On the date of publication, Tom Yeung did not have (either directly or indirectly) any positions in the securities mentioned in this article.
Tom Yeung, CFA, is a registered investment advisor on a mission to bring simplicity to the world of investing.