Believe it or not, cannabis stocks are making a huge comeback right now!
Remember those? Cannabis stocks were the hottest tickets in town back in 2018, when Canada federally legalized marijuana. But since then, the industry's growth trajectory has meaningfully disappointed investors. And profit margins have been crushed. The result? Cannabis stocks have cratered.
But they're bouncing back now as investors are betting on potential U.S. legalization.
Specifically, in a 220-204 vote, the lower house of U.S. Congress just passed the Marijuana Opportunity, Reinvestment and Expungement (MORE) Act. In response, the ETFMG Alternative Harvest ETF (NYSEARCA:MJ) has bounced more than 20% since March 14.
Over that same stretch, certain cannabis stocks — like Canopy Growth (NASDAQ:CGC), Cronos (NASDAQ:CRON) and MedMen (OTCMKTS:MMNFF) — are up about 30%. And Tilray (NASDAQ:TLRY) stock has soared more than 50%!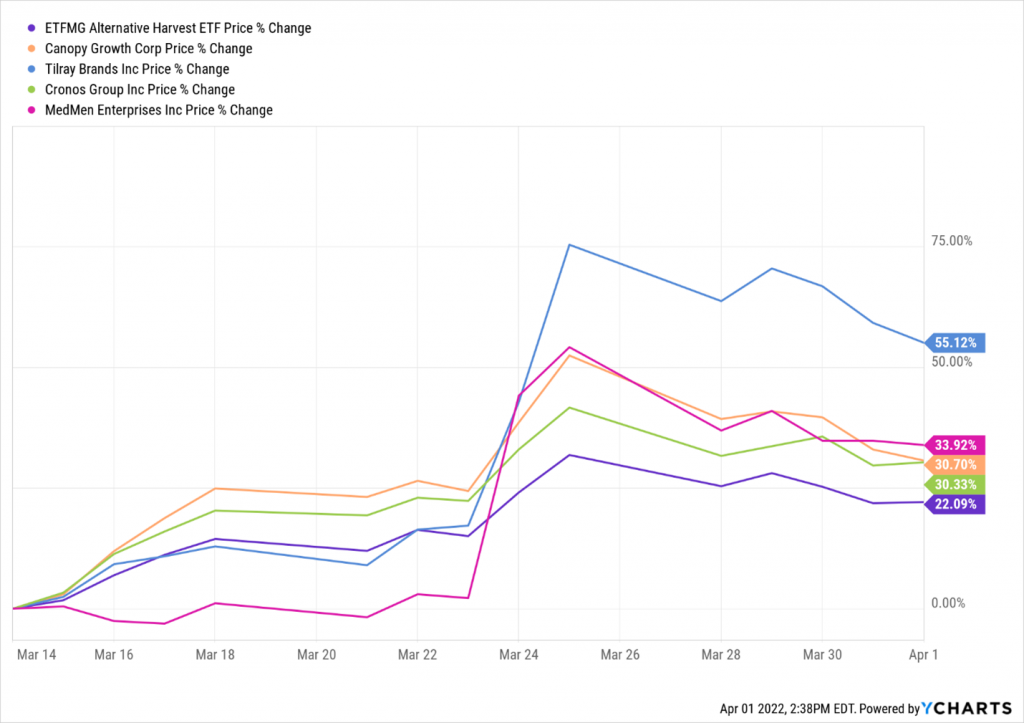 So… what's the deal with this rally? Should you buy cannabis stocks today on the hope that the U.S. legalizes weed over the next few months?
Well, in our investment research advisory Innovation Investor, we've bought a handful of growth stocks over the past few weeks. And some of them are up 20%, 30% or even 50%-plus over that stretch.
But we have not been buying cannabis stocks, and there's a good reason for that.
We Used to Be Bullish on Cannabis Stocks
Once upon a time, we were bullish on cannabis stocks.
We saw the statistics showing that young folks like to use marijuana as much as they like to drink alcohol. According to an industry insider we spoke to a few months back: Alcohol is so 2010s; marijuana is so 2020s.
We saw the political dominoes falling one by one, with country after country legalizing pot. Today pretty much every country in Europe, North America, South America, and Oceania has at least partially legalized weed.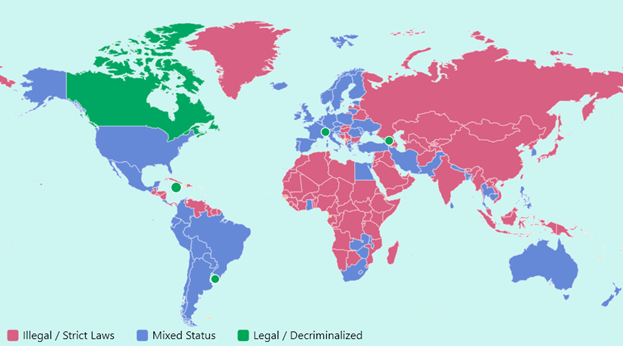 We connected the dots. And we believed that we were entering a new world where young folks would buy a lot of legal marijuana over the coming years.
In fact, we believed this trend was going to create a $50-plus BILLION global cannabis industry. And we predicted that industry would produce the marijuana-equivalent of Constellation Brands (NYSE:STZ), Molson Coors (NYSE:TAP) and Anheuser-Busch (NYSE:BUD). Those alcoholic beverage giants are worth a combined $150 billion.
Then we looked at the market caps of Canopy Growth ($3 billion), Cronos ($1.5 billion) and Tilray ($3.9 billion). And we saw a huge opportunity in cannabis stocks.
But that was before — and this is now.
Now we're pretty bearish on cannabis stocks, despite being bullish on the broader marijuana industry.
Indeed, in Innovation Investor, we cut all exposure to cannabis stocks several quarters ago. If you haven't done the same already, you should do so today.
Commoditization and Low Margins Weigh on Cannabis Stocks' Long-Term Growth
After more data underscored that cannabis operators will forever have trouble generating enormous profits, even at scale, we reconsidered cannabis stocks.
Our initial bull thesis didn't just hinge on the cannabis industry getting big (it will). It was also predicated on the idea that companies would build large consumer brands in the cannabis industry. And then they could competitively monetize those brands at strong profit margins.
But the latest trends imply that won't happen.
All these cannabis giants have reported disappointing earnings after disappointing earnings. And while they are all broadly releasing healthy topline results, most are also reporting widening losses and compressing margins.
The implication? They're spending to grow. And they're earning negative ROI on that spend.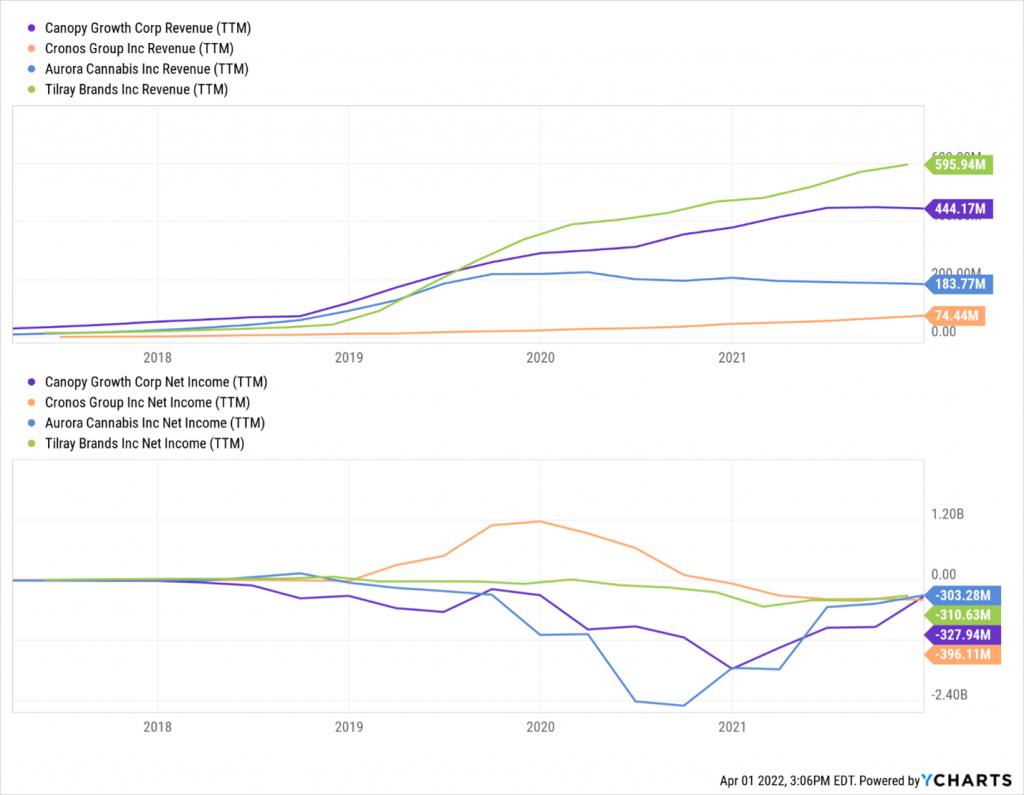 In other words, these businesses don't scale.
Why is this the case? The cannabis industry is entirely commoditized.
As it turns out, pot is pot. Sure, there's a difference in quality and strain. But your average consumer can't tell that difference. And even if they can, most don't care. Those who do mind represent a small segment of the population. And they often already have loyalty to a home-grown brand — or dealer down the street. They don't have loyalty to a Canopy Growth or Aurora Cannabis (NASDAQ:ACB).
Instead of meaningful product differentiation and brand loyalty, cannabis companies must rely on price and distribution to drive competitive advantages.
That's a losing ball game. You get into price wars where everyone loses. Spending on distribution only works until your competitor also scores the same distribution deals. And then everything reverts to a lose-lose price war.
In a nutshell, that's why we're bearish on cannabis stocks.
We were hopeful these companies were going to turn supercharged demand for legal pot into huge revenues and profits. But as each quarter passes and these companies lose more money, it's become clear that they won't.
Marijuana companies will always struggle to make profits. And therefore, cannabis stocks will always struggle to make you money.
The Final Word
I want to invest in companies that will be enormously profitable one day — and whose stocks grant huge gains.
My strategy is simple.
I look for early stage companies developing groundbreaking technology, with the potential to fundamentally change the world. And I buy those stocks on the idea that I can 10X-plus my money within a few short years.
It's this investment strategy that helped me uncover 1,000% returns in names like Shopify (NYSE:SHOP), Tesla (NASDAQ:TSLA), NIO (NYSE:NIO), Plug Power (NASDAQ:PLUG), Roku (NASDAQ:ROKU), Block (NYSE:SQ) and more — all before the age of 25.
Unfortunately, cannabis stocks just don't fit into that investment strategy. And that's mostly because marijuana companies aren't ever going to generate enormous profits. As such, since I know I won't 10X my money on cannabis stocks, I don't invest in them.
But fortunately, plenty of other stocks do fit into that investment strategy.
One such stock is a tiny company I just discovered. And I think it can surge 10X from current levels in a hurry.
It was founded by a bunch of MIT grads. And it's at the epicenter of the biggest technological revolution since the computer redefined society throughout the 1980s and '90s. The company is the leader in this industry. Its groundbreaking, differentiated technology platform has the potential to change quite literally everything about everything.
Better yet, this company's business model is highly scalable. It has strong profit margins –and the potential to generate huge profits at scale.
And best of all, its stock is trading for less than $5 today…
Indeed, this stock could be your biggest winner ever.
I'll tell you everything you need to know about this tiny stock and its world-changing technology.
On the date of publication, Luke Lango did not have (either directly or indirectly) any positions in the securities mentioned in this article.