Real Vs. Fake? Who Cares These Days.
I almost fell out of my chair on Monday after reading that Walmart (NYSE:WMT) would start accepting Litecoin (CCC:LTC-USD). Apologies to any LTC fans, but why would one of the world's largest retailers settle exclusively on an old Bitcoin (CCC:BTC-USD) fork?
The Walmart story, consequently, turned out to be fake. The press release came from a fraudulent WALMART-CORP.COM email domain, and scammers could have anonymously reaped millions from the 32% spike.
As markets continue their liquidity-powered runs, it's become harder than ever to tell fact from fiction. Tell me that a Shiba Inu NFT sold for $100 million and I would have to check the Ethereum (CCC:ETH-USD) ledger to make sure you weren't fibbing.
Nevertheless, separating hype from hoax is the cornerstone of great Moonshot investing. In today's issue, we'll take a look at some of the hottest Reddit trends and see what manias are actually worth investing in.
Reddit Trades Rise Again
Surprise! Shares of AMC Entertainment (NYSE:AMC) temporarily hit $50 again this week.
To the average Robinhood trader, it's obvious that shares of the theater company are on a tear. Shang-Chi, Black Widow and a host of other films have given new excitement to an otherwise struggling theater industry.
Look deeper however, and another truth emerges: Reddit traders have become the new kingmakers of Wall Street.
Consider AMC's valuation. Prices are so high that rival Cinemark Holdings (NYSE:CNK) now trades at a 92% discount despite having just 45% fewer screens. And National CineMedia (NASDAQ:NCMI), an asset-light company that runs cinema advertising systems, has a valuation worth only 7% of AMC's on a forward EV-to-EBITDA metric. Even Netflix (NASDAQ:NFLX) trades at an EV/EBITDA discount to AMC.
Then there's AMC's capital structure. The firm's management has used its Reddit-induced good fortune to raise at least $1.2 billion, extinguishing debt that no sane fiduciary would touch. No matter where you look, the theater chain has Reddit's fingerprints all over it.
Separating Truth from Hype
But Reddit users frequently choose lemons, too. Despite social media's best efforts, Clover Health (NASDAQ:CLOV) is still down -20% from its pre-special purpose acquisition company (SPAC) merger price. And marijuana darlings from Sundial (NASDAQ:SNDL) to Tilray (NASDAQ:TLRY) have refused to budge higher.
So what differentiates the deals from the duds? Today, we'll examine six of Reddit's top names and see which three have the potential to turn into the next GameStop (NYSE:GME).
Cameco (NYSE:CCJ). Readers will know I've long favored metals and minings firms during economic expansions. These companies have high fixed costs, which means that relatively minor inflationary pressure can send profits soaring.
But timing these moves is always tricky. Uranium's 50% price rise since January has been driven by traders rather than supply constraints (in fact, two of the world's largest uranium mines remain shuttered to reduce supply).
Investors in Cameco, however, can afford to ride out the volatility. This Canadian firm owns two of the richest uranium mines in the world, giving it an unbeatable edge over competitors. And the supply of nuclear fuel from disarmed atomic bombs is waning — a fact that Reddit users no doubt understand.
Cameco might be Reddit's latest flight of fancy. But peek under the hood and you'll see strong fundamentals that have made the miner a top long-term pick.
Growth: 6/10. Value: 8/10. Quality: 10/10. Overall Score: 8/10.
Novavax (NASDAQ:NVAX). When this dark-horse Covid-19 vaccine maker first announced its stunningly effective results, markets were elated. Shares peaked at $331. But as scaling and production delays mounted, the stock dropped back to earth.
Today NVAX stock sits at one-fifth the value of rival BioNTech (NASDAQ:BNTX) and one-tenth the value of Moderna (NASDAQ:MRNA).
But the longer the Covid-19 pandemic runs, the greater the chance that Novavax will succeed.
Last week, Japan's Ministry of Health purchased 150 million NVAX doses. And the announcement of booster shots across much of the developed world means a larger available market in the developing one. If Novavax's third-party producers figure out their issues, Novavax will become the world's leading weapon in the fight against Covid-19.
Growth: 10/10. Value: 7/10. Quality: 7/10. Overall Score: 8/10
Affirm (NASDAQ:AFRM). The "buy-now-pay-later" firm has created a whole new way for Peloton (NASDAQ:PTON) buyers to feel guilty about skipping their exercise routine. By offering 0% APR for high-end purchases, the financing firm has figured out a way to provide credit to customers who need it least. Its non-performing loans sit at around 1.7%, lower than rivals like AfterPay (OTCMKTS:AFTPY) and Aaron's (NYSE:AAN) which target customers with lower credit.
Insiders have also been bullish. Of the top 13 insider holders, only one has sold shares, according to data collected by Thomson Reuters. Everyone else has kept their shares intact.
Only one wrinkle stands in the way for this hot stock: valuation.
At 7x price-to-book, Affirm is priced where Lending Club (NYSE:LC) found itself post-IPO in 2015… right before shares dropped from $100 to $4. In other words, AFRM is not a diamond in the rough. Instead, it's a polished gem housed in the nicest store on Los Angeles' Rodeo Drive.
If you're the type of Moonshot investor to buy a stock and sit on it for a decade, AFRM is right for you. Even Lending Club might regain its $100 price someday. But if you're in it for the short-term thrill, AFRM's $29 billion price tag is a hefty price to pay.
Growth: 8/10. Value: 3/10. Quality: 8/10. Overall Score: 6/10
Ocugen (NASDAQ:OCGN). As we get further down the Reddit list, quality begins to suffer. And that brings us to Ocugen, a firm currently under investigation for securities fraud.
Usually, I have one rule for buying deep-value stocks: you can buy troubled companies, but steer clear of outright frauds. GameStop might have been circling the drain in 2020, but no executive ever tried painting lipstick on that fact.
Meanwhile, Ocugen's management has a long history of inflating the truth for personal gain. Since the start of the Covid-19 pandemic, executives have promised the moon and cashed out their stock options as quickly as they can. Exit positions range from $8 to $14 or more.
For Ocugen's most ardent Reddit fans however, none of this matters.
"$OCGN short squeeze its comming [sic] we are a big community," wrote one Reddit commentator. "ocgn to the moon," quipped another.
Perhaps OCGN can land a home run with their Covid-19 vaccine candidate. Vaccine shortages and the delta variant have pushed entire governments to embrace worse cures. But given how quickly insiders are cashing out of Ocugen, I'd rather follow management's lead and do the same.
Growth: 4/10. Value: 3/10. Quality: 2/10. Overall Score: 3/10
Workhorse (NASDAQ:WKHS). Back in November I wrote, "for the past decade, Workhorse has struggled through amateur hour."
Ouch.
Yet Workhorse's management has continued to prove the point. Earlier today, the team announced they were voluntarily withdrawing their legal challenge to a $6 billion USPS contract award they lost. Perhaps they had second thoughts of going toe-to-toe with the Department of Justice? Or perhaps WKHS' legal team flubbed the lawsuit.
"Workhorse has forfeited its newfound… challenge by failing to raise it before the Postal Service," argued attorneys for the Department of Justice.
Even Reddit has failed to change the EV firm's fortunes. Poorly structured capital raises meant that WKHS lost millions on convertible notes.
Perhaps Workhorse can still turn things around. Incoming CEO Rick Dauch masterfully steered Delphi Technologies to a $3 billion acquisition in 2020. And the electric vehicle revolution is only getting started.
But until Mr. Dauch starts replacing his sales and production executives with proven leaders, Reddit might have to wait on a Workhorse comeback.
Growth: 5/10. Value 3/10. Quality 1/10. Overall Score: 3/10
Support.com (NASDAQ:SPRT). Last and least, we have Support.com, a stock that U.K.-based Sentiment Investor ranks as the most negatively talked about Reddit stock.
Much like for-profit prison operator Geo Group (NYSE:GEO), SPRT has found that any press is good press when it comes to social media. Despite the negative chatter, SPRT shares are still up 600% since the barely-profitable customer service firm decided to merge with unprofitable Bitcoin miner Greenidge Energy.
Much like its disliked REIT cousin however, SPRT will soon find that the moon can be a harsh mistress. Shares are already down 75% from their all-time high, and prices will continue to fall as quantitative hedge funds realize that Reddit users aren't biting.
Growth: 4/10. Value: 1/10. Quality: 1/10. Overall Score: 2/10
Cryptomania Starts to Fade (Again)
"No one rings a bell at the top," goes one Wall Street adage. It's a truism that's haunted crypto and NFT investors from the start. This year alone, the average CryptoPunks sale price has seen drawdowns at least ten times, including a 50% drop at the end of January.
But last weekend's declines signal a new leg in the downward race. As Bitcoin's rout deepened, the rest of crypto fell too. Last week, Dogecoin (CCC:DOGE-USD) triggered the Momentum Master sell signal after falling 17% in a single day.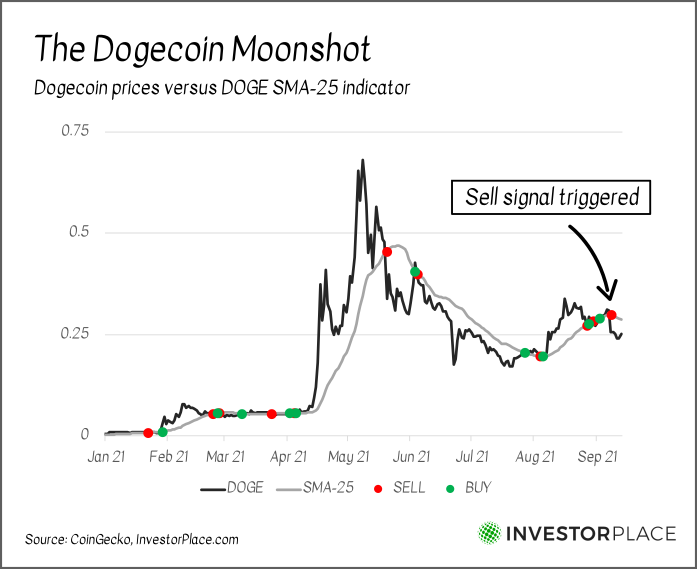 Unsurprisingly, the lowest-quality coins have fallen furthest. SafeMoon (CCC:SAFEMOON-USD) is now down 60% over the past 3-months, while HODL (CCC:HODL-USD) is down 55% since I recommended investors switch to higher-quality cryptos in late July.
But whether or not you believe in crypto's underlying merits, this much is clear. Choppy trading is ahead, and long-term holders will need to batter down the hatches.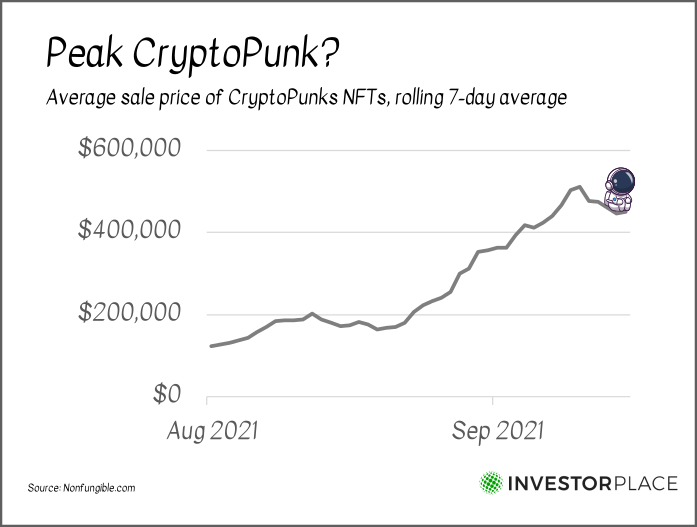 Finding Quality in Crypto and EV Stocks
Gen Z will inherit over $30 trillion over the next several decades. And this money has enormous catalysts for cryptocurrency growth, according to InvestorPlace's Luke Lango.
There's a new electric vehicle competitor in town, writes Joanna Makris. Here's why she believes this under-the-radar stock is the one to watch.
The natural winner for vehicle electrification? Lithium — the metal that powers the batteries that make today's generation of EVs possible. Faisal Humayun writes about the four best lithium stocks to bet on as demand booms.
The CryptoPunks Saga
| | |
| --- | --- |
| $100 million | Gain in Fitbit shares in 2016 when Virginia-based hoaxer Robert Murray published a fake press release about an upcoming takeover bid. |
| 46% | Takeover premium that the China-based ABM Capital would purportedly pay for Fitbit shares. |
| 24 months | Length of the prison sentence Mr. Murray received for orchestrating his hoax. |
| 20 years | Maximum prison sentence for "fraud in connection with a tender offer" offenses — four times greater than the penalty for publishing false financial statements. |
The Reddit Echo Chamber (Or Why Momentum Master Works)
Years ago, some friends and I performed the all-American pastime of visiting the Cheesecake Factory for a quadruple-digit calorie meal.
Reading the menu, one of us dared to ask,
"How's the Reese's Peanut Butter Cheesecake… Is it good?"
Without hesitation, our waiter responded,
"Of course it's good. It's cheesecake!"
These days, Reddit investors often do the same thing: looking for answers when their mind is already made up. And that sentiment is enhanced by social media influencers who rely on parroting popular views for their (often outsized) paycheck.
"Many influencers report that when they hype an investment, they get the page views they crave," observed Robbie Whelan at Wall Street Journal. "When the message is bearish, however, viewers turn away, or worse, attack the messenger with vicious trolling."
In other words, it's hard to change Redditor's minds.
That's why momentum has come to dominate the conversation. If a stock is going up, that's often enough reason for a Reddit investor to hop on board. But if we add in a quality screen, our resulting portfolio will impress even the most bullish of influencers.
P.S. Do you want to hear more about cryptocurrencies? Penny stocks? Options? Leave me a note at moonshots@investorplace.com or connect with me on LinkedIn and let me know what you'd like to see.
FREE REPORT: 17 Reddit Penny Stocks to Buy Now
Thomas Yeung is an expert when it comes to finding fast-paced growth opportunities on Reddit. He recommended Dogecoin before it skyrocketed over 8,000%, Ripple before it flew up more than 480% and Cardano before it soared 460%. Now, in a new report, he's naming 17 of his favorite Reddit penny stocks. Claim your FREE COPY here!
On the date of publication, Tom Yeung did not have (either directly or indirectly) any positions in the securities mentioned in this article.
Tom Yeung, CFA, is a registered investment advisor on a mission to bring simplicity to the world of investing.