The markets are starting to split again as the earnings traders are driving a wedge between the correlation that investors like to see growth with a bull market.
Today's three big stock charts look at the bearish reaction to Gilead Sciences, Inc. (NASDAQ:GILD), while uncovering opportunities for nimble traders to take advantage of profit-taking in the wake of earnings from AK Steel Holding Corporation (NYSE:AKS) and Sysco Corporation (NYSE:SYY).
Gilead Sciences, Inc. (GILD)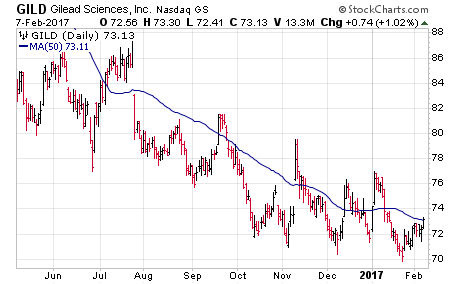 Put into an earnings must-win last night, shares of Gilead Sciences are setting to start the day 6% lower as the company provided lowered guidance for investors. The charts saw this coming as GILD stock made a quick break higher to $73 this week, while the rest of the market quietly moved in a range. This activity told us that the rumor buyers were out on Gilead.
Conveniently, $73 is the spot where GILD's 50-day moving average has been laying in wait to provide resistance for shares. Gilead stock will see a perfect rejection at this trendline today, which will excite the bearish trend watchers as they sell sell sell.
Below, the round numbered $70 should try to provide some support for GILD. This price is one in a growing number of lower lows that the company has posted over the last nine months. It also continues a pattern of lower highs for Gilead stock, something that the technical traders are taking mind of as we're seeing volume increase on these spikes.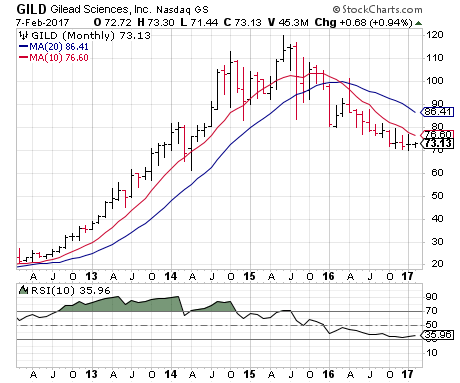 The $70-level breaking will take GILD shares back to 2014 prices and target a move to the $60-level from here.
AK Steel Holding Corporation (AKS)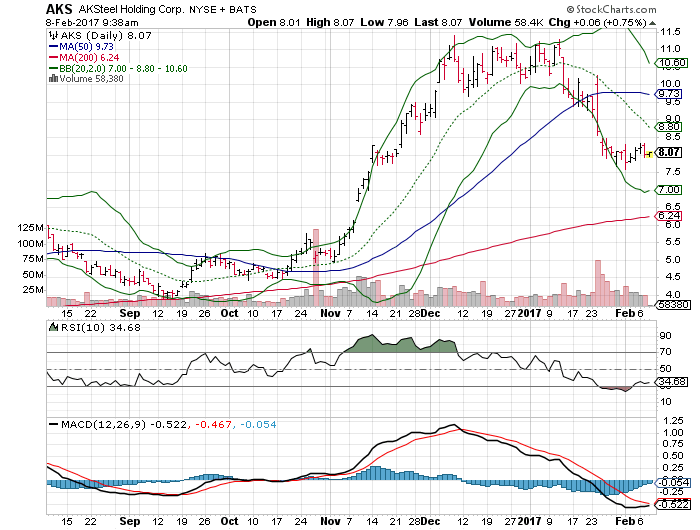 The "Trump Rally" was declared finished long ago, but some of the sector remains at the highs it obtained during that rip higher. Of course, there are a few that have seen the profits sucked from them, like steel companies. AK Steel in particular has suffered at the hands of profit takers as the stock has declined from $11 to $8 over the last month.
The precipitous decline brings AKS stock into an oversold reading that the traders should be checking out.
Last week, the short-term RSI for AK Steel stock dipped below its buy signal. The recent selling comes after downgrades on AKS stock, despite a positive earnings report for the flat-rolled electrical steel manufacturer.
The $8-price has been a significant level for chart watchers dating back to 2014. AK Steel shares held $8 as resistance and support a number of times during that period, and it was the last time that we saw AKS prices this high.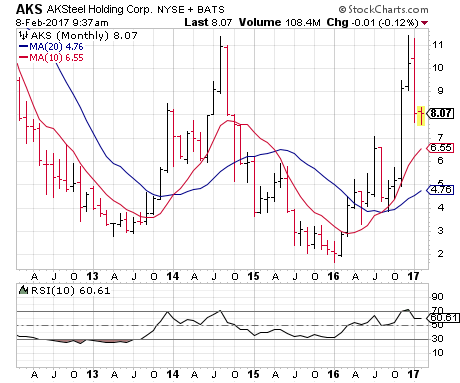 Over the short-tern, the rebuilding and restructuring environment as well as focus on American made basic materials should help AK Steel and other metal manufacturers. The technicals indicate that this oversold stock is ready to bounce again as the noise generated by analyst downgrades for AKS has passed.