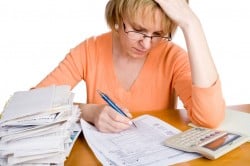 April 15th is approaching fast. That means that millions of Americans are now frantically scrambling to prepare the taxes in time to meet the deadline.
To help taxpayers keep their taxes as low as possible, Walmart's (NYSE:WMT) Walmart Foundation and a coalition of other groups including United Way, National Disability Institute and Goodwill Industries International, have compiled a list of five things taxpayers should keep in mind as Tax Day looms.
Here are the five things to know before you file your tax returns:
Maximize your money — Invest any refund you get in a long-term investment to boost your financial security.
Gather data — Keep important tax documents in a safe, easily accessible place. Don't forget forms and financial records you will need to fill out your tax return.
Get an income boost — See you if qualify for the Earned Income Tax Credit, which could mean extra benefits for individuals and families.
Get Returns Faster — By filing your tax return electronically, you increase the speed with which the Internal Revenue Service can send you a tax refund.
Save $200 — Do your taxes yourself. People who pay to have their taxes prepared by an outside party spend about $200 on the service.
You can find more detailed information on these tax tips here.