For Chesapeake Energy Corporation (NYSE:CHK) investors, it's gone from good to bad — both off and on the price chart — for the past couple months. For traders that are looking to position with an eye on the downside in CHK stock, though, a targeted put butterfly is the favored approach. Let me explain.
Since issuing mixed earnings back in late February (one in which investors were more than willing to put CHK stock on the chopping block), it's been an increasingly tough to justify going long. In fact, as InvestorPlace's Will Ashworth recently noted, things for CHK stock could ultimately get a good deal worse.
The article laid the case for an eventual bankruptcy at Chesapeake Energy Corp. based largely on some Altman Z-Score analysis. The fair warning could take a couple years to still play out. Of course, nothing is written in stone as it relates to a Chesapeake's status as an ongoing business. CHK stock could always come out the other side.
The real message is acknowledging that CHK stock needs to be appreciated as an extra risky investment today. More to the point, investors that do purchase shares of Chesapeake in the current environment should see it as a highly speculative position and not one to simply tuck under the mattress.
Considering what's happening on the price chart, that doesn't mean positioning in Chesapeake Energy is off the table. In our view, and from a trader's perspective, there's a lot going right for CHK stock … for bears using the options market at least.
CHK Stock Weekly Stock Chart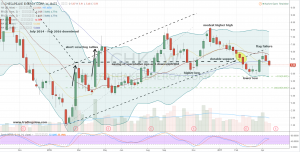 Click to Enlarge Over the past two months shares of CHK have gone from technically stable to the year-long uptrend being fully rejected.
I'll admit, an article penned in mid-February offered buying into chart support … but price action has faltered enough that I can't personally embrace Chesapeake as even a speculative long at current prices.
Bottom line, since late February, CHK has broken below channel support to establish a lower low. That's bad. Worse though, the price deterioration has been confirmed by a flag pattern that failed at resistance formed by the prior uptrend.
Looking forward, I'd anticipate the next move will be a challenge of the recent low of $4.88, which found support from the 50% retracement level of CHK stock's low to high over the past year.
A successful test could be viewed as a double bottom. I'll personally be watching for that type scenario to play out. Failing a hold, however, a move toward $4 and the 62% support appears the path of least resistance. And as Will pointed out, it could always get a good deal worse.