The market saw its first 1% move in a long time yesterday as traders reacted to the increased rhetoric surrounding the building situation in North Korea. The move has put an already teetering market into a more precarious position as the affect of August seasonality had already been adding pressure to stocks.
Traders are getting more defensive, but the charts continue to reflect the presence of a stock pickers market that will favor nimble investors. Today's three big stock charts examine the technicals for the iShares Russell 2000 Index (ETF) (NYSEARCA:IWM), Goldman Sachs Group Inc (NYSE:GS) and Merck & Co., Inc. (NYSE:MRK) to determine the answer "buy hold or sell?" for each.
iShares Russell 2000 Index (ETF) (IWM)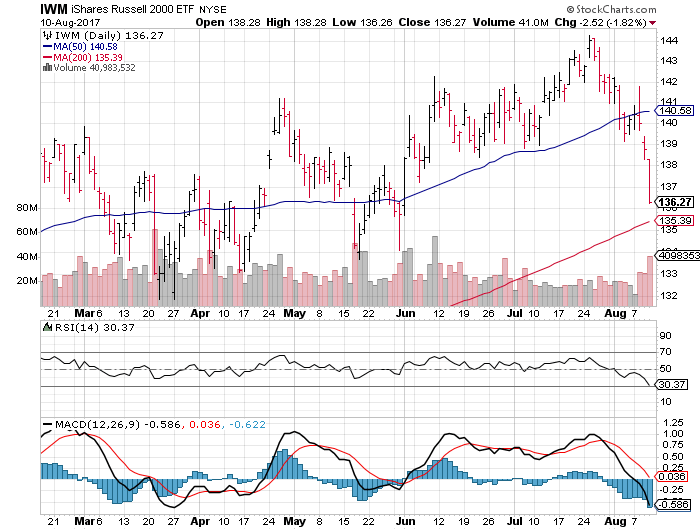 We don't often address ETFs in our coverage of the charts, but the small-cap stocks represented by the Russell 2000 Index have meaning beyond any single stock. The directional bias of the small-cap stocks is almost always an indication of where the market is going as it represents the status of the "risk-on" trade. Given this, a breakdown in the IWM is bad news for the broader market.
Let's look at what the chart tells us today:
Within three days, the Russell 2000 Index has gone from breaking its 50-day moving average to testing its 200-day trendline. The former caused technical traders to sell furiously while the latter NEEDS to lure buyers into the market to retain intermediate-term bullish conditions.
The charts indicate that $136 has been a key consolidation level for the IWM over the last six months, which should add buying pressure and strength to the market for a short-term bounce.
Yesterday's selling surge put the IWM shares into a technically oversold situation as the RSI touched the $30-mark. This is the first oversold instance for the IWM shares in 2017, so we expect to see the buyers come out in force over the next week.
Goldman Sachs Group Inc (GS)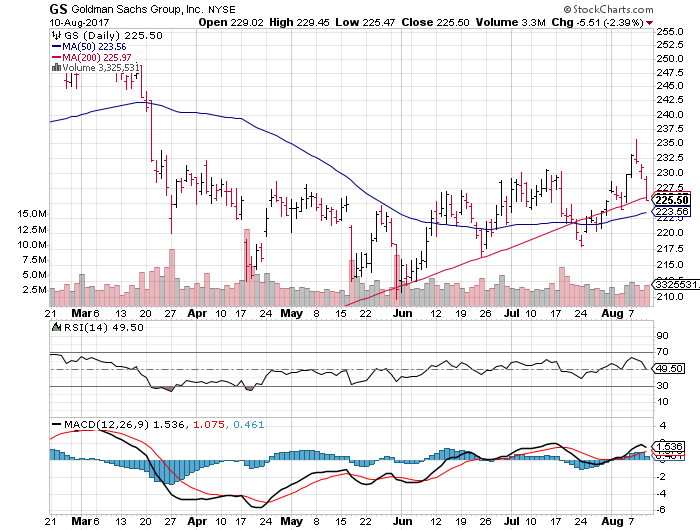 The banking giant has been struggling since its last report as traders have questioned whether the company has lost some of its trading mojo.
Regardless of the reason, the latest rally in GS was stifled and the stock is now testing critical support levels that must hold to avoid a 5-10% decline in share value.
Goldman Sachs shares' recent foray above chart resistance at $330 was met with selling as this clear chart resistance level came into play to trigger selling pressure.
Today, GS stock is trying to grab support at the 200-day moving average. This trendline provided support twice in June and once in July.
Just below the 200-day is the 50-day trandline, which should combine to help buoy shares at the $223 price level. The 50-day is trending higher, which forecasts higher prices for Goldman Sachs over the next 3-4 months.