Cars that drive themselves.
Machines that think like humans.
Batteries that power everything from cell phones to airplanes.
These are the kinds of technologies people think about when looking into the future.
They don't think about tractors.
But that's the cool thing about the Roaring 2020s.
These breakthroughs touch everything. They create new industries and transform old ones.
That's why I think this decade will bring some of the best opportunities investors ever see.
Take the story of a 184-year-old company that began with a new way to plow dirt and is now moving headlong into advanced technology.
Companies everywhere must do the same …
Autonomous vehicles (AVs) — or self-driving cars — will change the way we get around in ways we haven't seen since Henry Ford introduced the Model T in 1980.
AVs are going to reshape the American landscape. How you vacation, where you live, even the way we design our cities and neighborhoods will change.
With this much at stake, many of the world's smartest, richest, most powerful entrepreneurs, investors and corporations are working day and night to make early and strong entrances into this market that will one day be massive.
I have no doubt the winners of this race will see their stocks advance 10-fold … 20-fold … even 100-fold over the coming decade … taking investors along for the ride of their lives.
But autonomous driving technology isn't just for cars. It isn't even just for busses, or trains, or airplanes.
More than 70 years before Henry Ford introduced the Model T, a blacksmith by the name of John Deere saw a broken steel sawmill blade and had an idea. Farmers had to constantly stop working to knock dirt off their cast-iron plows. Deere thought that if the plows were made of polished steel, the dirt would slide off and make farming a whole lot easier.
Deere & Company (NYSE:DE) began in 1837 with what was a "high tech" plow at the time, and you know the rest of the story. It grew into one of the world's biggest companies that manufactures all kinds of equipment for agriculture, construction, lawn care and more.
Deere continues to embrace innovation and is now focused on new technology that will reshape the company and its industry. The company itself says it is transforming from a "machinery company" into a "smart technology company."
Investors like what they see. The stock has jumped more than 200% in the last 12 months — which included the pandemic — giving the company a valuation of $120 billion.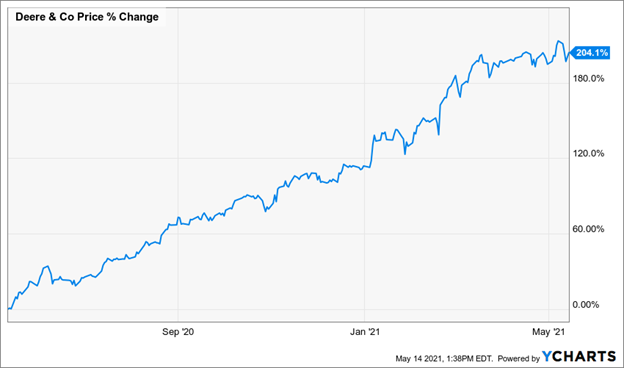 I got to see some of what Deere is up to a little over a year ago at the Consumer Electronics Show (CES) in Las Vegas. I'm more of a city boy, so I can't say I've done a lot of farming or lawn care in my time, but what I saw was cool.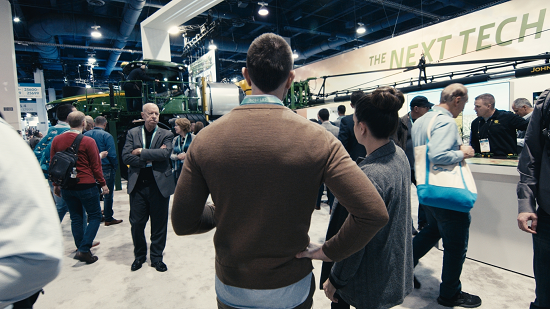 The company is focused on three main areas of innovation …
Electric power: The days of tractors growling through the fields and belching smoke into the air are coming to an end. "Electrification is not just about replacing the fuel tank; it's about replacing the complete engine," said Martin Kremmer of the John Deere European Technology Center.
This results in zero emissions, low maintenance costs and increased efficiency and productivity. Efficiency and productivity will improve even more as next-generation batteries are rolled out.
The coming breakthrough battery technology will power all electric vehicles of the future. Deere recognizes its importance … and so do smart investors. That makes now the time to get in position for the biggest profits.
Autonomy: Yes, tractors will drive themselves one day. In fact, some believe tractors might get there before cars because they operate in open fields instead of crowded streets.
But in this case, autonomy means more than self-driving. For example, Deere is developing autonomous ways to spray crops. One way is through drones, which would house a scanner that identifies weeds and automatically triggers a pesticide spray when needed. (The drones would also rely on battery power.)
Artificial intelligence (AI): High-resolution cameras take 20 pictures per second, and using AI, the system "learns" the difference between weeds and crops. It then sprays weed killer where needed instead of blanketing an entire field. That's better for the environment, more effective for the farmer and cheaper to boot.
With this kind of innovation occurring in industry after industry, you can see why I believe the Roaring 2020s will be a decade for the investing record books.
Several once-in-a-generation technologies are converging at the same time and transforming virtually every aspect of our lives — from healthcare to instant communication to robotics to electric power and much more. Even an industry like farming, which you could say is as old as dirt, is becoming "smart."
The impact these technologies have on the global economy will one day dwarf the internet. To make money, you want to invest in companies leading the way. And to make the big money, you want to do it soon … while it's still early.
On the date of publication, Matthew McCall did not have (either directly or indirectly) any positions in the securities mentioned in this article.
Matthew McCall left Wall Street to actually help investors — by getting them into the world's biggest, most revolutionary trends BEFORE anyone else. Click here to see what Matt has up his sleeve now.