On more than a couple fronts Wall Street is breathing easier this week. And resuscitation efforts from buyers have been even more evident in tech giant Apple (NASDAQ:AAPL). In fact, AAPL stock outpaced the large-cap, tech-heavy Nasdaq's rally of 3.5% with gains approaching 5%. And there are more than a couple good reasons for the burly bid too.
It has been a difficult year for bullish investors. And last week's 75-basis-point rate hike from the Federal Reserve appeared to only worsen a market plagued by persistent supply chain, inflation, at-risk consumers and other challenges. Briefly it played out that way too, and Apple shares were by no means immune as fresh year-to-date lows were put in place last Thursday.
But headlines quick to pounce on new and weaker bearish cycles and warn of an even nastier environment for stocks have been replaced by a bullish rally attempt this week worth monitoring. And AAPL stock is leading the way for an opportunistic buy decision.
| | | |
| --- | --- | --- |
| Ticker | Company | Current Price |
| AAPL | Apple | $142.81 |
Apple's Blend of Growth and Value
Apple is the world's largest technology company. Despite its $2.2 trillion capitalization, the iconic brand has managed to make itself a prized holding for growth and value investors alike.
Over the past fiscal year, the ability for Apple to grow earnings by 71% and see sales growth of 33% are sure testaments to the company's ever-growing relevance and global reach despite an incredibly tough operating environment.
Critically, the tech giant is also bolstering its longer-term growth prospects vis-à-vis its Services business. Services now account for 20% of the company's revenues. What's more, the area is growing nearly three times as fast as AAPL stock's hardware based Products business, boasts margins that make the segment twice as profitable for Apple and are now responsible for one-third of its gross profits.
Then there's the value that AAPL stock also offers.
To be fair, investors could worry themselves over Apple's weaker full-year sales and earnings growth forecast. And Apple's price and sales multiples remain historically rich despite 2022's bear market. But those are likely superficial blemishes if famed value maven Warren Buffett is correct.
The investment manager's storied Berkshire Hathaway (NYSE:BRK.A, NYSE:BRK:B) is AAPL's second largest shareholder, and the stock represents 40% of the firm's portfolio. Just as impressive though, the investment manager has continued to purchase shares during this year's correction.
Key Indicators From the AAPL Stock Chart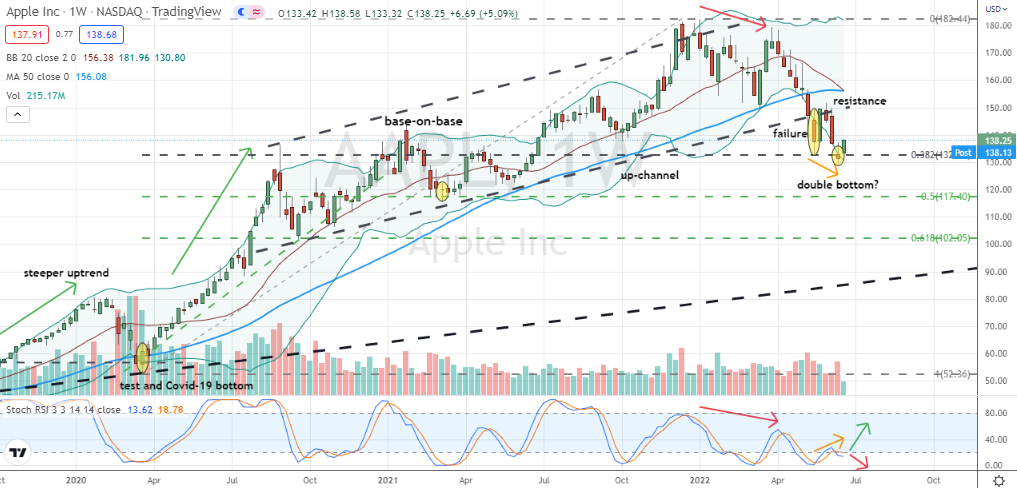 Source: Charts by TradingView
If we're to trust a forward-looking market's pricing abilities, the Nasdaq and S&P 500 indices, of which Apple is the single largest holding, are currently in a key time window for turning conditions around for bullish investors.
Heading into Thursday's close the two major averages are in day four of their rally attempt counts after hitting fresh bear market lows this past week. Historically, if a rally attempt is accompanied by a high-powered gain — known as a follow-through day (FTD) — in days three to seven, a bull market has a leg to stand on.
A FTD isn't a guarantee a meaningful bottom will ensue, and a couple signals have already failed this year. But without one in place, history emphatically warns that a bear's work isn't finished.
Still, as happy as Berkshire Hathaway has been to gobble up more AAPL stock on weakness, and even looking past today's visible weekly double bottom buying opportunity, a truly red delicious Apple that produces sustainable and growing profits for other investors isn't likely to be served without a FTD either.
Buying AAPL Stock Smartly
So, do you want to be like Warren, or do you prefer to be like Mike? To cross the aisle, bears have another famed investor on their side in fund manager Michael Burry.
The guy who literally and figuratively bet against the house during the 2008-2009 financial crisis is short AAPL stock in a big way. Not in a Buffett kind of way, but late last month it was revealed Burry's Scion Asset Management maintained bearish put positions of $36 million and 18% of its portfolio.
Regardless of investors choice for inspiration, I do prefer Burry's use of a long put strategy as the risk is clearly defined. And if like me, you do see stronger value in buying AAPL stock, I'd suggest using a fully hedged collar strategy and manage the spread as a long-term holding, so that buying on further weakness is a financially and psychologically easier choice to act on.
Ultimately, there's no need to jump the gun on buying AAPL stock, until the broader market shows a favorable hand toward buy decisions for longer-term investors.
On the date of publication, Chris Tyler did not have (either directly or indirectly) any positions in the securities mentioned in this article. The opinions expressed in this article are those of the writer, subject to the InvestorPlace.com Publishing Guidelines.