AT&T Inc. (NYSE:T) has been on fire, rallying over 15% since November 1. However, T stock price is still down more than 9% so far for 2017. So is it time to get in on this recent momentum or take a pass on the telecom giant?
Let's look at the chart first.
Trading T Stock Price
AT&T certainly has positives, but its chart is anything but pretty. T stock price made a bullish move when it was able to reclaim the $35 mark. Above that and it was a reasonable long. However, now pushing into the $39 level, T stock enters some serious resistance.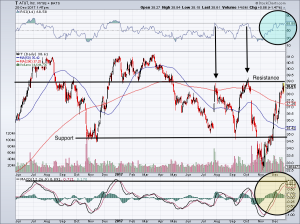 Click to Enlarge
This isn't a temporary level, either. This $39 to $40 region has been both support and resistance over the last 20 months or so. To get above it would be a huge win for the bulls. If traders are looking to add T stock to their portfolio now, it may be best to wait. I'd wait for AT&T to either pullback or break through this current level.
Further, you'll see that the MACD (yellow circle) is nearing a points where, historically speaking, it tends to exhaust itself. Further, the Relative Strength Index (blue circle) is nearing an overbought state. T stock has approached $39 two other times since August with an RSI reading similar to its current levels. The odds favor a pullback or at the very least some consolidation.
The Fundamentals for T Stock
We recently took a look at who the holiday winners might be in the telecom space. Because Verizon Communications Inc. (NYSE:VZ) was strangely not offering a buy-one get-one (BOGO) deal for the new Apple Inc. (NASDAQ:AAPL) iPhone, AT&T and T-Mobile Us Inc (NASDAQ:TMUS) were the likely winners.
AT&T's BOGO offer wasn't quite as good at T-Mobile's, but it was likely enough to still attract new subs. That should bode well for its fourth-quarter results. Let's hope that's the case, as expectations for 2017 aren't that great. Presently, analysts expect sales to contract 2.2% this year before growing just 20 basis points in 2018.
While positive revenue growth forecasts for 2018 are an improvement, it comes at a cost. Earnings growth of 2.5% in 2017 will slip to just 0.3% in 2018. But no one is buying T stock for the earnings and revenue growth. If investors want that, it's best to look at T-Mobile. (The story we linked to above sheds light as to why.)
Instead, it's about a low valuation and fat dividend yield. In fact, just a few days ago, T stock increased its quarterly dividend by 2% to 50 cents per share. While 2% is a small bump, the move marks AT&T's 34th consecutive year of a higher payout. That's something that many income investors can hang their hat on. They can count on AT&T — which now pays out 5.2% — to continue paying out that dividend for years and years to come.
To make matters even better, T stock price trades at just 13 times 2018 earnings estimates. Despite its near-zero growth, this is a low valuation for such a big, dependable dividend yield.
Bottom Line on T Stock
Through the first nine months of fiscal 2017, AT&T has a free cash flow dividend payout ratio of 70.5%. This figure is up from 66.8% during the same period a year ago. It basically means that 70% of T's free cash flow covers the dividend. On the plus side, T stock's dividend is covered simply by the free cash flow generated by the business. On the downside, this figure is up almost 400 basis points year-over-year. This will widen even more with the recent dividend hike.
While that's something to keep an eye one, so too is AT&T's pending acquisition of Time Warner Inc (NYSE:TWX). Should the company lock in Time Warner, it will add a whole host of content and free cash flow to its current business. While the roughly $85 billion deal is a biggie, many believe it will be favorable to AT&T.
Bret Kenwell is the manager and author of Future Blue Chips and is on Twitter @BretKenwell. As of this writing, Bret Kenwell did not hold a position in any of the aforementioned securities.