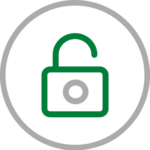 Cybersecurity Stocks
In today's digital age, cybersecurity is more important than ever. Cybersecurity involves protecting hardware, software, and servers from digital attacks. Any company that has a digital presence is at risk of these attacks, and companies like CrowdStrike and Palo Alto Networks provide protection against this. By 2030, cybersecurity revenue is expected to reach $500 billion, compared to $185 billion in 2021.
Recent Cybersecurity Stocks Articles
Cyren (CYRN) stock is falling on Monday as the cybersecurity company's shares continue to experience volatility following news last week.
Cyren (CYRN) stock is dropping on Thursday as the cybersecurity company deals with recent headwinds from its liquidation plans.
Arqit Quantum (ARQQ) stock is taking a beating on Friday after the company announced a $20 million direct offering for its shares.
Looking to benefit from the AI boom started by ChatGPT? Here are the best AI stocks to buy for the emerging market frenzy.
These hidden gem stocks to buy have multibagger returns potential and represent companies with strong fundamentals.
CrowdStrike (CRWD) stock is in the news Wednesday as the cybersecurity company announced Michael Sentonas as its new president.
Companies that lose money even though revenue is growing run unsustainable businesses and are the tech stocks to sell.
The White House has announced a new AI partnership with the EU. Here are the best AI stocks to buy to benefit in 2023 from the AI boom.
Don't be fooled by the recent rallies of these troubled companies. Their share prices are likely to tumble, making them meme tocks to sell.
These growth stocks have taken a massive haircut last year and offer a chance for outsized gains in 2023