Ready for the 5G revolution? Well, ready or not, it's here. As a result, investors are going to be turning their attention more to this space. They will be looking for 5G ETFs to consider on the long side as well.
Here's the thing investors don't seem to understand about 5G. Yes, it will make our smartphones faster — including the recently announced iPhone lineup from Apple (NASDAQ:AAPL).
But Apple won't be the only name on the 5G list. Soon it will become standard issue and that's going to drum up business across the board.
While download speeds should be significantly faster, it's going to have a larger effect beyond that. Chipmakers will see a boom in demand, as Internet of Things and smartphone upgrades accelerate.
More speed equals more data and more activity, which is going to have an effect on datacenters, cell towers and data-analytic firms. It's not going to be a one- or two-year upgrade cycle, either. It's going to be a multi-year shift in the 5G realm. We've seen an explosion in data over the last few years. Well, get ready for gasoline to be poured on the fire.
Let's look at seven 5G ETFs that will give you exposure to this space:
5G ETFs to Buy: VanEck Vectors Semiconductor ETF (SMH)
Expense Ratio: 0.39%, or $39 annually per $10,000 invested
In talking with some consumers, telecom firms and iPhones seem to be where their head is at when it comes to 5G technology. To a large extent, that's pretty understandable. However, it's the backbone of these products that will make 5G possible.
In that sense, the VanEck Vectors Semiconductor ETF may be one of the better ways to gain exposure to 5G.
The ETF is led by an 11% weighing in Tawain Semiconductor (NYSE:TSM), which produces the A14 chip in Apple's latest 5G iPhone. That's followed by Nvidia (NASDAQ:NVDA) and its 8% weighting in the ETF. Nvidia is a chip producer for a number of products, as well as a big supplier to the datacenter.
Regarding the latter, datacenters are set to see a big increase in information over the coming years (more on that later).
Qualcomm (NASDAQ:QCOM) is the fourth-largest holding in the SMH ETF, with a 5% weighting. Qualcomm is one of the largest chip producers in the industry and its smartphone chips are part of what makes 5G possible.
Others in the ETF's top 10 include Broadcom (NASDAQ:AVGO), Advanced Micro Devices (NASDAQ:AMD) and Lam Research (NASDAQ:LRCX).
Technology Select Sector SPDR ETF (XLK)
Expense Ratio: 0.13%
While it's not the sexiest choice on the list of 5G ETFs, I would be remiss to exclude the Technology Select Sector SPDR ETF. Although the ETF gives investors broad exposure to tech, its 23.7% weighting to Apple is noteworthy.
The company's iPhone upgrade cycle should be powerful this year, with or without the novel coronavirus wreaking havoc. Why? For one, its introduction of 5G will draw a lot of consumers into the new trend, looking for faster speeds and quicker downloads.
However, its typical upgrade of better graphics and a more impressive camera will surely draw in consumers using the iPhone 8 or earlier editions.
While this ETF may be a bit more diverse than expected, its powerful weighting toward Apple makes it one to consider. Of course, having Nvidia in the top five holdings helps, along with Intel (NASDAQ:INTC) and Cisco Systems (NASDAQ:CSCO) in the top 10. Keep in mind, 70% of the ETF's weighting is in its top 10 holdings.
iShares U.S. Telecommunications ETF (IYZ)
Expense Ratio: 0.42%
How can we talk about 5G and not mention the iShares U.S. Telecommunications ETF?
Telecom is going to play a major role in the rollout and implementation of 5G. As much as a smartphone or device needs 5G-compatible chips, it also needs something to support the strain on 5G usage.
That would be the telecoms.
This group will raise some questions among investors — such as, won't it cost telecom companies more to support 5G technology than they will make in revenue?
That's a fair question, as these companies pour billions into technology upgrades and their towers. However, the availability of 5G is going to force (or lure) many customers into unlimited data plans. It should also allow telecom companies to raise their prices in the future.
All in all, faster data and more capable devices will make telecom services that much more of a necessity, making the stocks in-demand among investors.
There is a caveat with the IYZ ETF, which is that its top two holdings are AT&T (NYSE:T) and Verizon (NYSE:VZ). While that's not necessarily a bad or surprising observation, the two stocks command about 45% of the ETF's weighting.
That's a lot of exposure to just two stocks. That said, almost 80% of the ETF's weighting is in the top 10, which also includes Cisco, Arista Networks (NYSE:ANET), T-Mobile (NASDAQ:TMUS) and Garmin (NASDAQ:GRMN).
Fidelity MSCI Communication Services Index ETF (FCOM)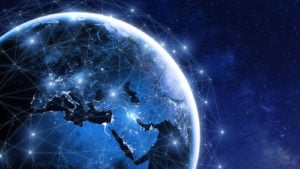 Expense Ratio: 0.08%
The Fidelity MSCI Communication Services Index ETF is a really interesting play on the 5G revolution.
This ETF has a great combination of stocks. Verizon is in its top five, while AT&T and T-Mobile are in its top 10. Comcast (NASDAQ:CMCSA) and Charter Communications (NASDAQ:CHTR) are also in the mix.
However, it's the what consumers will be using on 5G components that I like. More specifically, that's streaming via Netflix (NASDAQ:NFLX) and Disney (NYSE:DIS), social media via Facebook (NASDAQ:FB) and search via Alphabet (NASDAQ:GOOGL, NASDAQ:GOOG).
Those last two — Facebook and Alphabet — make up about 38% of the ETF's weighting. While that's a heavy weighting for two stocks not primarily fueling the 5G trend, there are pros.
First, these companies will see heavy usage, as social media, YouTube and search are leveraged. Second, Facebook and Alphabet boast two of the strongest balance sheets in the entire stock market. There are worse horses to bet on than these two and in fact, these are two of the better ones to back.
Defiance Next Gen Connectivity ETF (FIVG)
Expense Ratio: 0.30%
Based on just the ticker symbol alone — FIVG — the Defiance Next Gen Connectivity ETF should have investors' attention. In this case, it's more than just a fitting name that makes this ETF attractive.
Its top holdings are set to benefit from the boom in 5G. The largest holding? Qualcomm. At just 6.5%, it doesn't command a lot of size from the ETF; however, it is perhaps one of the best-positioned stocks to benefit from the 5G gold rush.
Its chips will be imperative to 5G capabilities, plus its fundamentals are healthy. The company has a big contract with Apple, while its stock pays out a 2.1% dividend yield. That's almost three times greater than the 10-year Treasury yield.
And not to go all pro-Qualcomm here, but just look at the consensus estimates. While expectations call for modest revenue and earnings growth of 8.8% and 10.7% this year, respectively, estimates for 2021 are quite robust. Analysts expect 32.2% revenue growth and 65% earnings growth.
Beyond that, other top holdings for the FIVG include NXP Semiconductor (NASDAQ:NXPI), Analog Devices (NASDAQ:ADI), Verizon, Skyworks Solutions (NASDAQ:SWKS) and Xilinx (NASDAQ:XLNX), which is now being acquired by AMD.
This might be one of the better 5G ETFs on this list — and not just because of the name.
Pacer Benchmark Data & Infrastructure REIT ETF (SRVR)
Expense Ratio: 0.60%
With an explosion in speed will come an explosion in data. For that, we need to look to where that data will be stored and what companies will be generating that profit. Remember, I said we would talk about the datacenter.
Think about it; 25 years ago when we took pictures or shot video, where did it go? We didn't send many texts messages and social media didn't even exist — except when we were being, you know, actually social in real life.
Fast-forward two and a half decades and the world is a much different place. Many users spend hours on their phone per day, have thousands of pictures saved and text hundreds of times a day. Not to mention their social media lives.
All of that data has to be stored somewhere and that's in the data center. For that purpose, we look at the Pacer Benchmark Data & Infrastructure REIT ETF.
This fund has been on a bit of a wild ride, though. It was introduced in May 2018 and we all remember the viscous Q4 selloff experienced that year. That led to a big year in 2019 for SRVR, rallying just over 40%.
Unfortunately, 2020 hasn't offered much of a less-volatile ride either way. However, the performance has been solid, the yield is decent at 1.75% and the top 10 has well-known holdings like Crown Castle (NYSE:CCI), American Tower (NYSE:AMT) and Digital Reality (NYSE:DLR).
Global X Artificial Intelligence & Technology ETF (AIQ)
Expense Ratio: 0.68%
It was not easy landing on a final pick for the 5G ETFs list. However, the Global X Artificial Intelligence & Technology ETF seems like an interesting choice.
The ETF's No. 1 and No. 3 weightings are Nvidia and Qualcomm, respectively. We've discussed at length how these two companies will help lead the 5G revolution. After all, without these companies' products, I'm not sure if 5G launching in 2020 would be possible.
Possible or not though, they are the leaders.
Sandwiched between the two is Salesforce (NYSE:CRM). Perhaps not a quintessential 5G holding on the surface, the company will surely benefit from the technology. Its acquisition of Tableau Data should continue to see secular growth in the creation of data, while Salesforce is anything but asleep at the wheel. From its recent update:
"Salesforce is working with CSPs globally to evolve to digital-first and cloud-based customer platforms. These will set the foundation for CSPs to realise the full potential of 5G services … 5G represents a compelling opportunity for CSPs to reinvent their future networks and drive growth through new business models. 5G is also an opportunity to transform IT in order to eliminate bottlenecks to innovation, and reimagine customer experience and the digital world."
To think the top three holdings won't benefit from 5G would be silly at this point.
On the date of publication, Bret Kenwell held a long position in AAPL, NVDA, AMD, GOOGL and T.
Bret Kenwell is the manager and author of Future Blue Chips and is on Twitter @BretKenwell.